"Popular culture is a place where pity is called compassion, flattery is called love, propaganda is called knowledge, tension is called peace, gossip is called news, and auto-tune is called singing."
Criss Jami, from "Killosophy"
"Propaganda is to a democracy what the bludgeon is to a totalitarian state."
Noam Chomsky, from "Media Control: The Spectacular Achievements of Propaganda"
I don't think you would get anywhere by arguing that living in a democracy means your leaders always tell you the truth – and let you and your fellow voters decide, based on that truth, whether you want to go further down the road under their leadership or come to a parting of the ways, and go forward without them. There is no written promise that leaders will not lie, just as there is no statement of ethics which forbids a free press from lying to its readers, whether deliberately or because it was itself deceived by liars.
Nonetheless, the obvious repugnance and disgust expressed by generations of western journalists for the manipulative propaganda of Nazi poster-boy Goebbels and the overly-motivational exhortations of the Communist Soviet Union's five-year planners strongly suggested the west at all levels disapproves of lying in order to manipulate public perception.
Can we agree, then, that western philosophy – by which I mean the propounded creed of NATO and various western temporary and semi-permanent alliances over the years since the Second World War – encourages a belief that the creation and dissemination of propaganda is wrong? That western journalism strives for an impression that propagandists are also liars, and that an informed populace can handle the truth?
That's pretty much what I thought.
I was reminded of the western appetite for being hoodwinked recently in a comment by regular reader Julius Skoolafish, celebrating the bring-the-mountain-to Mohammed journalism of Eva Bartlett. Like a few other courageous women in the profession – Abby Martin, Lizzie Phelan, Vanessa Beely – Bartlett frequently goes to trouble spots for lengthy periods and reports on events there. There's no particular reason to assume everything she says is true, any more than you would believe total honesty of everyone you don't know. However, her interpretation is often very different from mainstream narratives. And the curious thing is,  the mainstream narrative hardly varies at all; cruel dictator, killing his own people, who are crying out for freedom from his crushing oppression, western obligation to bring freedom and democracy. Check, check, and check. And that narrative has been verifiably demonstrated to be utter horseshit, time and time again. Iraq is only the best example, because the events are fairly fresh in the collective consciousness, the barefaced lying by western leaders – chiefly those of the United States and the UK – was so over the top, and the reckoning was paid solely by the victims of the operation. Not one western leader was penalized in any way, and British leader Tony Blair was elevated to a jet-about-the-world envoy, smiling his bland assurances of western benevolence for generous paychecks. The neoconservative manipulators caught red-handed lying and lying and lying some more were just folded into future governments, where there is no reason to imagine their story-spinning did not continue.
But if you google up the Wikipedia entry on Eva Bartlett, you get this:
Eva Karene Bartlett is a Canadian activist and blogger who is known for promoting conspiracy theories about Syria. She writes op-eds for the television network RT. Bartlett describes herself as an "independent writer and rights activist." Critics contend that her advocacy amounts to support for the Assad regime, and she has promoted the falsehood that the White Helmets stage rescues and "recycle" children in its videos.
So much calculated venom in such a short bio. Known for promoting conspiracy theories. Writes for RT, which is a common synonym these days for 'known liar'. Supports the 'Assad regime'. Tells porkie-pie lies about those nice White Helmets, almost always pictured digging groaning, barely-alive victims out of shattered concrete rubble, their honest, broad features sombre with anguish and sorrow at the ceaseless inhumanity of man toward his fellows.
What a wicked, wicked woman.
Another curiosity of propaganda and its marketing is that certain people and agencies can seemingly get away with it forever, based on the principle that people believe statements which make them feel good about themselves when good things are done in their names. Taking the White Helmets as an example, those conspiracy-theorist liars at the state-funded British Broadcasting Corporation themselves remarked upon a supposed rescue operation conducted in Syria in November of 2016 by the famous White Helmets, in which they appeared in a selfie with their supposed rescued victim in what was apparently a subsequent shot; far from crushed by the jagged rubble, he appeared in perfect health.
The video itself is quite a clumsy effort, but it is a feature of propaganda that when you are telling people that their tax dollars and donations are supporting magnificent examples of selfless courage in far-off lands where the leader of the fuzzie-wuzzies is murdering his own, they don't require much convincing. We see the two brave White Helmets – not a speck of dust blemishing their spotless uniforms – pausing to get everything just right before the actual extrication process begins. The victim, covered with concrete dust, remains passive until some unseen director apparently says, "aaaannnd…Action!", at which moment he begins to thrash and shout with pain and panic. The noble White Helmets work away silently as if unmoved by the danger of their situation and the pitiful struggles of the victim. Which appears to be the case, in fact, as he appears in a photo with them taken apparently moments later – since he is wearing the same clothes and is still covered with concrete dust (give you silicosis, that) – but miraculously whole and apparently relaxed.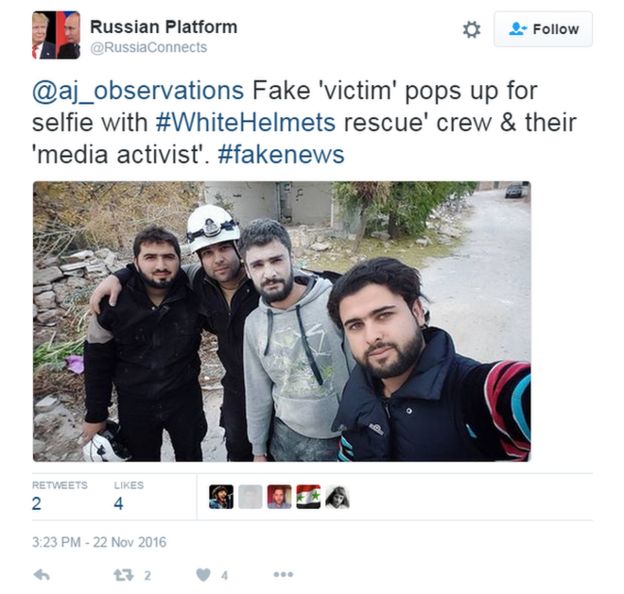 That'll be one for his actor portfolio. It's eerie, the way rubble-pinned victims calm down immediately after rescue by the White Helmets. Perhaps they're magic.
On that occasion, even the doyen of western citizen-journalist fakery, Bellingcat's Eliot Higgins, was moved to comment that this was just not on, chaps, not on at all, and it only lent credibility to western useful-idiot conspiracy theorists (like Bartlett, presumably) when such distressingly clumsy fakes were exposed. For their part, the White Helmets were quick to apologize – sorry, Guv, we don't know what we wuz thinking. The leadership of the White Helmets was definitely not involved, and in fact didn't even know about it, we was just carryin' on, like.
This might be a good place to comment on that White Helmets leader and co-founder; former British Army intelligence officer James le Mesurier. Because he was found dead in the street outside his home in Istanbul, apparently having fallen from his balcony in the wee small hours of the morning. If so, he must have made a mighty effort to fly to the opposite rooftop, because his body was discovered across the street from his balcony. But British investigators assure us everything was on the level; he died due to bursting of a blood vessel in his aorta, possibly due to stress because he owed rather a large amount of money – they even have video of him falling, thanks to a conveniently-placed security camera.
Anyway, back to Eva Bartlett and her mendacious lies about the honest White Helmets 'recycling' child actors and using them over and over in fabricated 'rescues' or for post-disaster clips that move western potential donors to bitter tears and getting out their wallets. This was conclusively and decisively debunked by that western paragon to truth in journalism, The Guardian.
Why, anyone can see these three images do not depict the same child – she's…she's wearing different clothes, for one thing! And this, this is the clincher, so embarrassing for Bartlett, really: she's wearing the same bracelet…but it's on the opposite arm!! Yes, she apparently missed that, the silly cow. And her hair is different! In one picture, it's all messed up and sticking everywhere, but in the photo of her lying on a bed or cot, it's smoothed down and curly! And pictures show her nearly buried by heavy rubble! That'd be almost impossible to stage!
"Someone would have had to have buried a screaming child up to their chest in rubble and carefully assembled a large amount of heavy wreckage around and on top of her – an extraordinary logistical challenge and an extraordinary collective act of child abuse."
Perhaps in Britain assembling a large amount of wreckage around and on top of a person so they appear to be in mortal danger but are in fact not hurt at all is an extraordinary logistical challenge; air strikes on British cities are sort of rare. But many Syrian cities have been almost razed to the ground, and great chunks of concrete are lying around in the most ubiquitous fashion.
Similar and classic is the fake of the 'chemical attack' at Douma in the spring of 2018. An actor at the center of the production, 11-year-old Hassan Diab, claimed he was hustled into the hospital and sprayed with water in an apparent fabricated 'decontamination', but there had never been anything wrong with him. His father claimed the same – that radicals in Douma had staged the video and that there had not been any chemical attack. Hospital staff, ditto. No symptoms of chemical attack displayed by any of the 'victims', and the props still in place at the hospital for anyone who wanted to look. The western response? A 'despicable' put-up job by the Russians, to attempt to justify their presence in Syria where they were invited by its democratically-elected leader, whereas the western forces just invited themselves in and worked under the radar as much as they could to support the fundamentalist radical 'rebels'. Where the 'last hospital in Aleppo' was bombed by the Russians so many times, but always raised itself from the ashes so it could be bombed again.
Even the ridiculous filming of the man first shown roaring in agony only to be seen in a selfie with his 'rescuers' moments later was excused by the western press; France 24 claimed the depiction was never meant to portray an actual rescue. No, it was just the White Helmets doing their version of the popular 'Mannequin Challenge', to raise awareness about the horrific conditions in Syria. The White Helmets were sorry to have given propagandists the opportunity to portray their genuine and selfless efforts as fake, but you just can't predict what low-lifes some people can be.
"Some people have alleged that this footage shows a rescue being staged. But here's the truth of the matter: Yes, it was made by the White Helmets. Yes, it was staged. However, the White Helmets were transparent about their intentions because this is a rather awkward example of the Mannequin Challenge.
The idea behind the challenge, which was started by high schoolers in the United States, is to show a scene frozen for several seconds before leaping into action again."
Well, that's believable, surely? Much more believable than the actual victims of chemical attacks in Douma being flown to the Hague to testify they had never been involved in any chemical attack, and the whole show a fabrication by radical 'rebels', in another despicable head-fake by the Russians. God only knows what those poor people were promised in exchange for their lies – maybe a lakeside palace next to Putin's.
The absurdity of the excuses offered boggles the mind. The fact that allegedly-fake videos by the White Helmets are 'widely shared' is proof that they are harmless, and that certain people are just determined to beat up on the White Helmets. Video of an alleged former White Helmet confessing that their disaster rescues are staged is a fake because you can tell from the way his eyes move that he is reading from a script. The testimony of the President of France's Emergency Firefighters and First Responders International that rescued children often bear no trace of dust or dirt after having been 'rescued' from rubble is batted aside in favour of the word of some anonymous yob who is nevertheless credited as an 'expert' in urban search and rescue, who claims;
"The fact that the children aren't covered with dust doesn't prove that this video has been staged. It's possible that the children were in a pocket of air, which wasn't filled with dust or smoke."
Fucking incredible. The fact that children rescued from an environment swirling with dust and dirt emerge clean as if they just stepped out of J.C. Penney's display window might also indicate they had just been beamed in from the holodeck of the Starship ENTERPRISE. It's just as believable as their having been trapped in a pocket in which there was plenty of air but no dust, as if explosions and building collapses miraculously preserve occupants of such pockets from dirt. And the word of the president of a renowned urban-extraction organization is summarily dismissed as twaddle, Not because it is,  but because it did not support the desired conclusion. Children who appear in other respects identical must be different children because they are wearing different clothes, and the fact that they are pictured carried by different men just means they were being handed down a human chain, like a bucket brigade. I can describe the whole environment in which the knee-jerk exculpatory western media operates in just two words, and the first is 'Wilful' and the second is 'Ignorance'.
The same media which pours scorn on any suggestion that the White Helmets are a bunch of PR fakes employed for the dual purposes of raising money for the Syrian opposition and justifying a western intervention is perfectly willing to accept that Russia altered the results of the 2016 Presidential Election in the United States by way of less than $100,000.00 in Facebook ads and social-media posts while the candidates' expenditure of Billions was to no avail, even after documentary evidence proved the FBI conspired to suborn testimony and entrap witnesses. It really, unfortunately, portrays westerners as beyond gullible – almost childlike – in their apparent willing ingestion of crude propaganda. Meanwhile, the reference material we rely upon to make our respective cases is ideologically purged on a daily basis so that its narrative reflects a western society which is honest and good, and in which elements among the people who shout "No – this is wrong! It's all a lie!" are lunatics and droolers and mendacious fabricators who want to subvert the west in its ongoing do-gooding. Disgraceful, and only the more so because we willingly participate in the ridiculous charade with our hearts and conversation and wallets.
"We become slaves the moment we hand the keys to the definition of reality entirely over to someone else, whether it is a business, an economic theory, a political party, the White House, Newsworld or CNN."
B. W. Powe, from "Towards a Canada of Light"