There was a young lady of Niger
Who smiled as she rode on a tiger;
They returned from the ride
With the lady inside,
And the smile on the face of the tiger.
Attributed to William Monkhouse
The greatest happiness is to vanquish your enemies, to chase them before you, to rob them of their wealth, to see those dear to them bathed in tears, to clasp to your bosom their wives and daughters."
Genghis Khan
The thrill of controlling a large, powerful and potentially dangerous animal is undeniable; to make it your servant and compel it to do your bidding is satisfying balm to the ego. How much more satisfying again it must be to control an entire country, and to bend the collective work and product of its people to your power and enrichment. America has long manipulated great-power politics to its own benefit, and the pleasure of doing so seems to be enhanced when the victim is helpless to resist. At least that's the way it is consistently portrayed in the government-managed western media, for the enjoyment of the cheering assholes in the international bleachers.
Well, as another parable has it, riding the tiger is the easy part. The hard part is getting off. This is helpfully explained as "Once you have taken this path, there is no way back."
The west – led, as usual, by The Exceptional Nation – climbed aboard the tiger in 2014, when it decided to initiate and support a coup in Ukraine and turn it into a heavily-armed foil to Russia. Admittedly the second part came later, but perhaps as early as 2015, when the Minsk II Agreements – with the ulterior motive for the west being the arming and strengthening of Ukraine until its army was powerful enough to not only take back the Donbas republics and Crimea by force, but powerful enough to drive Russia back over its borders if it dared to intervene – were signed. As I just suggested, the west took no serious note of the agreement's provisions beyond opportunities to nag Russia that it was not holding to its responsibilities (although Russia is not mentioned in the accords at all), because the intent was to use the agreement to stall for time while Ukraine's striking power was built up. Consequently when the time came to set The Great Game in motion once more, Russia massed troops on the border with Ukraine as a visible deterrent – we see what you're doing, and if you try it, you'll be sorry. It failed to deter President Zelensky, who ordered an artillery bombardment of the border regions of the Donbas Republics to soften up resistance prior to an armored and infantry attack…and now quite a few people are sorry. Just before the Russian military operation began, the state published a list of demands for the well-known supporters of chaos. The requirements were:
An end to NATO military activity in eastern Europe, including Ukraine, the Caucasus and Central Asia;
No expansion of NATO membership, particularly to Ukraine;
No intermediate or shorter-range missiles deployed close enough to hit the territory of the other side;
No military exercises of more than one military brigade in an agreed border zone;
An agreement that parties do not consider each other as adversaries and will resolve disputes peacefully; and,
Neither Russia nor the United States can deploy nuclear weapons outside their national territories.
The referenced article was published well in advance of any formal reply from NATO, but Deutsche Welle was already confident the west would blow Russia off contemptuously. Why? Because riding the tiger is fun.
"Russia has released a series of security demands to NATO, including a veto on the alliance's expansion. It is calling for an immediate dialogue, but NATO members aren't likely to acquiesce to Moscow's wish list."
And the west did reject Russia's demands, stingingly and entirely, because its combined coalition groupthink informed it that Russia would not bother with a warning unless it was weak, and knew it. Strong countries do not offer an opportunity to reconsider your options. They kick ass. And as many of us learned only recently, courtesy of Moon of Alabama, the pretense that nobody could have known what might happen will not be available this time. Because the influential RAND Corporation think tank warned the US government of potential consequences of each of its actions as far back as the Spring of 2019, all of which it took anyway. No longer content to simply ride the tiger, America began to hammer its ribs with its heels, and of course its simpleminded vassals loudly chorused approval.
But now the situation increasingly looks as if the ride is over, and the time to get off the tiger draws near. And that's going to be a problem. Because the world cannot simply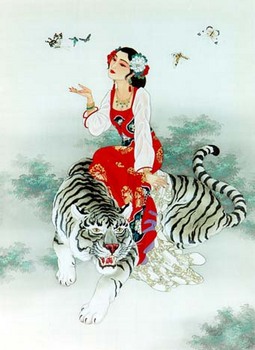 go back to the way it was; not in the lifetime of anyone reading this today. NATO's cascading, compounding duplicity has finally overpowered Russia's attempts at understanding it and cutting it some slack, and clearly the attempt to stir revolution in the Russian breast failed about as conclusively as the parameters of failure allow. The Russian people continue, as of last month, to support their leader's decisions at a rating of 81%. The slow but inexorable squeezing of Ukraine is unlikely to relax, and tanks from the west are more likely to provoke an escalation than a climbdown – let's recall that the Russian operation began with the declared intent of minimizing casualties, offering the opportunity to surrender, and confine the scope to military targets. An accelerated frequency and magnitude of cruise-missile attacks resulted from a Ukraine-linked attack on the Crimea bridge, and the action ratcheted up to pounding energy infrastructure and utilities following the destruction of the Nord Stream pipelines. If western-donated tanks actually make it to Ukraine in time to see combat, they are likely to see a rapid and destructive response, and the risk that the whole thing will spin out of control and flash over to a major war in Europe will increase proportionally. It's too dangerous to get off the tiger right now, but staying on is getting increasingly untenable; there has been some crazy talk about giving Ukraine fighter jets, too, but that's just whistling past the graveyard, and it is becoming clearer to an ever-wider audience that NATO has poured so much weaponry into Ukraine that its own fighting stocks are imperiled.
A particularly uncomfortable position to be in, considering that Russia was never really the target, not in Uncle Sam's view. Russia was only a speed bump on the road to confronting…China.
But what if…oh, what if the solution was to climb up onto an even bigger tiger?
I don't like saying, "I told you so"; well, actually, that's a lie – I do like saying it. But I don't like quoting my own writing to do it, it feels conceited. Nonetheless, the warning that the west is sleepwalking into a conflict with China (and more recently, an alliance of China and Russia) has been a frequent theme in past posts. For example, this one, from more than 3 years ago.
So as most ordinary thinkers could have told you would happen, America's hold-my-beer-and-watch-this hillbilly moves to split Russia and China apart have succeeded in driving them closer together; the world's manufacturing and commercial giant and a major energy producer – a great mix, unless you are the enemy. The rest of the world is kind of watching America with its pants around its ankles, wondering what it will do next. It failed to wreck the Russian economy, failed to depose and replace Bashar al-Assad in Syria, failed to depose and replace Nicolas Maduro in Venezuela, and it will fail to prevent a Sino-Russian axis which will reshape global trade to its own advantage at the expense of America. Because whenever it has an opportunity to seize upon a lucid moment, to turn away from its destructive course, it chooses instead to bullshit itself some more. To whisper what it wishes were true into its own ear.
I just noted, in re-reading it, a moment which the times have rendered into contemporary comedy – the cited article mentions Netherlands high-functioning twit Mark Rutte as polling only 10% voter approval in his own country in 2018. You remember Rutte; the inspiring leader who threw the question of Ukraine's accession to an EU-Ukraine Association Agreement – which would liberalize trade – open to referendum…and then ignored the results because he and other European leaders did not like them. Now the European Commission is grappling with complaints from member states that the influx of Ukrainian grain is bankrupting its farmers. Poland floated the idea of using the Crisis Reserve, a €450 million fund for emergencies, to compensate European farmers in affected countries. The Netherlands voted against it.
Guess whose name is being shopped around as a replacement for Stoltenberg as NATO Secretary-General? Mark Rutte. Don't worry, though; the most likely outcome is that Stoltenberg will stay on. Ummm….that's supposed to be good news. But how could a serial roadapple like Rutte even have made the A-list? I know, right? I used to wonder, too, what they were smoking in Europe, but it turned out to be bad for my blood pressure, so I try not to think about it now.
Anyway, please forgive the digression. We were talking about America girding its loins to take on China, after bleeding money and armament to Ukraine in a proxy war against Russia – a process whose acceleration suggests Washington believes it is being clever rather than stepping on another rake.
Is Washington concerned, at all, about the cementing of a pact between Russia and China based on their mutual dislike of America acting like the drunk guy dancing by himself at a nightclub, so that nobody wants to be serious about anything anymore? Might be, a little.
For instance, the caption of the lead photo reads, "In this handout photo taken from video released by the Russian Defense Ministry Press Service on Dec. 22, 2022, Chinese warships take part in joint naval drills with Russia in the East China Sea. The exercise showcases increasingly close defense ties between the two countries as they both face tensions with the United States." Russia and China now regularly conduct large-scale joint military exercises. But significantly, in wargaming scenarios the United States writes itself and has an ally or an American national play the enemy, exercises in which the notional enemy often behaves as past observation of these military exercises suggests they would be very unlikely to do…the USA still frequently loses. In situations in which it has complete control over whether or not it wins, not to put too fine a point on it.
The CSIS exercise was run 24 times. "In most scenarios, the United States/Taiwan/Japan defeated a conventional amphibious invasion by China and maintained an autonomous Taiwan."
But all parties in the war game suffered high losses. "Victory is therefore not enough. The United States needs to strengthen deterrence immediately." The report recommended measures to improve U.S. capabilities:
"Increase the arsenal of long-range anti-ship cruise missiles. Bombers capable of launching standoff, anti-ship ordnance offer the fastest way to defeat the invasion with the least amount of U.S. losses. Procuring such missiles and upgrading existing missiles with this anti-ship capability needs to be the top procurement priority."
But the 'conventional amphibious invasion' codicil seems to have been inserted just to imply China could not win unless it advanced beyond conventional assault. Wasn't it only two years ago that the USAF's Deputy Chief of Staff warned that in key areas of air-combat competition, America is breaking a sweat achieving parity with the Chinese Air Force? In other areas, it's behind them. Now. US Air Force Secretary Frank Kendall claimed his priorities are "China, China and China". With good reason – the People's Liberation Army (PLA, all disciplines are subordinate to the army, resulting in the odd-sounding 'People's Liberation Army Navy', the PLAN) now has the largest aviation forces in the Indo-Pacific and the largest conventional missile capability in the world, and is actively fielding hypersonic missiles. Kendall also noted that the rapid pace of Chinese military modernization has resulted in China acquiring a first-strike capability with its long-range nuclear forces.
Would this be a bad time to mention that NATO has yet to defeat Russia through its cunning plan of throwing Ukraine at it? I mean, Russia was supposed to be the easy part. And maybe this might not be the best time to bring up that the United States was the principal influence in forcing Russia and China together, into what has become a truly daunting military alliance comprised of two of the top three nuclear-weapons powers. But it was. Just sayin'.
In such an imagined amphibious assault, China would take advantage of an amphibious assault force it began to define and build only two years ago, yet it has already launched its first two assault carriers, a third is probably completed construction – given that building them is taking the Chinese only about 6 months – and the usual experts speculate they could have a Marine-Corps equivalent to rival that of the United States by 2025. They already have around 30,000 marines. Such a force would be self-contained, able to operate autonomously from the other arms of the Chinese military, leaving them free to act in support. So we might as well go ahead and point out that they're right there, on the other side of the Taiwan Strait. The United States is more than 7,000 miles from the Taiwan Strait, while the attacking force would be maybe a tenth of that. And while Russia's amphibious fleet is assessed as 'far smaller than that of the USA' – just in case it decided to help its ally – it is also assessed as 'formidable'.
Russia's amphibious assault capability, while far smaller than that of the United States, is formidable. The Russian navy boasts dozens of amphibious assault ships of different sizes, and well-equipped naval infantry brigades that are considered among the Russian military's elite formations. Russia's naval infantry force fields five brigades plus additional battalions, which are organized similarly to motorized rifle units and are operationally subordinated to fleet commanders. In theory, Russian forces could mount brigade-sized landings with tanks and armored vehicles, supported by land-based fixed-wing and rotary-wing aviation.
Would they do that? Ah, ah – we don't think like that, and people who do wind up being surprised more often than they need to be. The cornerstone of strategic planning is "Think capabilities, not intentions". We've had plenty of examples of how stunned western military analysts are on the planning and warfighting philosophies of non-aligned nations. Don't ask "Would they?", ask "Could they?". If the answer is Yes, assume they would.
And that's what Russian Defense Minister Sergey Shoigu thinks, too. Or so he said in 2015.
The bilateral defense relationship primarily manifests itself across three broad areas of engagement; high-level military contacts, military-technical cooperation, and joint military exercises. Of the three categories, exercises are arguably the most important. In 2015, Russian Defense Minister Sergei Shoigu said as much: "The most important issue of the Russian-Chinese military cooperation are the joint military exercises." Joint military exercises contribute to China and Russia's security partnership in three ways, according to the Congressional testimony of Richard Weiss in 2019. First, they help Beijing and Moscow's armed forces improve their tactical and operational capabilities and increase their interoperability, enhancing their ability to conduct joint operations. Second, the exercises serve a mutual reassurance function, affirming China and Russia's "commitment to military cooperation as an important dimension of their evolving relationship." Third, joint military exercises signal to third parties—particularly the United States—China and Russia's strong commitment to each other's security interests.
I'm…ahhh….trying to be delicate about this, but…such a Sino-Russian lunge across the Taiwan Strait – admittedly a farfetched possibility, since there is every likelihood China and Taiwan will be unified as the result of a peaceful process – would be countered by a nation whose foremost military thinkers believe a full-on amphibious assault is something that will 'never happen again' after the D-Day landings. Just how effective an opposition would they really be, regardless of their tough talk? And although Taiwan's external defenders make much of its indigenous people, descended from Pacific islanders, they actually make up not more than 3% of the population. The rest are as Chinese as the Year of the Dragon.
Okay, so I think we can safely dispense with further discussion of the American military conquest of China. After all, they haven't beaten Russia yet, so China is still a ways down the road. But say; cancha just roon their 'conomy? You know, like you did to Russia. With sanctions. You remember.
Well, about that. Just before we get back to China, I feel I should point out that the IMF now forecasts growth for the Russian economy this year – reversing its earlier prediction – and even suggests Russian economic growth could outstrip that of the United States within two years. I would normally laugh at anything from Newsweek, whose reporters apparently get much of their inspiration from airplane-model glue. But in this instance they are merely quoting an IMF report, which appears to be genuine.
So, on the prospects of Washington waving its mighty hand, and wasting China's economy…look, I'm not an economist. But I'm going to go ahead and say no. Because, you see, China's annual trade surplus with the United States – which is already announcing its opening moves to roon their 'conomy – actually widened 1.8% in 2022, to $404 Billion, with a 'B'.
Last year's exports to the United States edged up 1% over 2021 to $581.8 billion despite tariff hikes by President Joe Biden's predecessor, Donald Trump, that still are in place on many goods. Chinese imports of American goods declined 1% to $177.6 billion.
China's global trade surplus in 2021 was the highest ever for any economy. 2022's was a 29.7% expansion. China is buying oil and gas from Russia, not from the world economy, and Russia has lots of it – which it sells to China at a discount. Last year, China even resold cargoes of imported American LNG to Europe at a substantial profit. But with the Chinese economy poised to rev up again to an astonishing 5% growth this year, next winter will likely be lesson time again for Europe, which is still mewling about 'renewables' and buying gas from Algeria and Norway, and of course from the USA – its partner in Freedom and Democracy. When the frost is on the pumpkin once again, China will be uniquely poised to decide – or perhaps 'influence' would be a better word – gas prices in Europe. Unless Baerbockian thinking has triumphed, and there is a windmill in every front yard and a photovoltaic panel on every flat surface.
Which brings us, through the delightfully mocking stylings of Patrick Lawrence, to the yawning difference between What We Are Supposed To Think Is Happening and What Is Happening. I mean, you could argue there is often a pretty large gap between political rhetoric and the reality of political actions; western politicians routinely preach inclusiveness and harmony, and then act to divide and conquer until we have grown to expect such a performance. But in the Sino-Russian summit just concluded last month – which received pretty much zero coverage in the west, for reasons I imagine will quickly become obvious – presidents Xi Jinping and Vladimir Putin are arguing for nothing less than a new world order. The Chinese head of state had this message; you can judge for yourself whether it bodes ill for the current claimants to Running The Global Show.
China stands ready to join hands with Russia and all other progressive forces around the world who oppose hegemony and power politics, to reject any unilateralism, protectionism and bullying, firmly safeguard the sovereignty, security and development interests of the two countries and uphold international fairness and justice. The two sides need to maintain close coordination and collaboration in international affairs, uphold the authority of the United Nations and the status of international law, stand for true multilateralism, and fulfill their responsibilities as major countries and lead by example on such issues as protecting global food and energy security.
The Russian head of state was no less contemptuous toward the erstwhile pretenders to global leadership, and their selective reliance on 'international law'.
The outgoing year has brought great and dramatic changes to our country and to the world. It was filled with uncertainty, anxiety and worry…. For years, Western elites hypocritically assured us of their peaceful intentions… But… the West lied to us about peace while preparing for aggression, and to cynically use Ukraine and its people as a means to weaken and divide Russia. We have never allowed anyone to do this and we will not allow it now.
In summary: the proxy war, which was deliberately fomented, initiated and supported as a means of weakening Russia preparatory to powerful new measures to contain China, has instead substantially weakened and divided its western backers, and brought the European economy to the brink of collapse. There is no improvement on that forecast for this year, and instead warnings to prepare for more fiscal gyrations next winter. The western coalition, united in collaboration to keep Ukraine fighting until the entire country is razed to the ground, is demonstrably incapable of prevailing over Russia alone, never mind Russia backed by China's almost-double-the-size-of-the-US's army, its nearly 6000 tanks and a defense budget that leaped by 6.8% in 2022 after a decade of steady increases. I know the USA's white paper claimed the PLA's ground forces "are either using obsolete equipment or cannot effectively field modern weapons without better equipment or training"; but they made similar dismissive noises about the Russians even when their propaganda was more sophisticated than "Russia is recruiting its mercenaries from prisons and they are climbing over the bodies of their own dead to advance". Yet advancing they appear to be. Chinsauce about taking China to the woodshed economically is just laughable look-over-here posturing and distraction as the western economy implodes with unsustainable debt and out-of-control subsidies that would never have been required if there were not lunatics minding the shop.
Mr. Lawrence's closing paragraph struck such a responsive chord for me that I think I will use it to take us out.
Do you think the cultivation of ignorance in this fashion is a sign of a society's health—a restorative, a source of strength? Or is it the opposite, one cause among many of the palpable decline in our public discourse, the tearing of our social fabric, the rampant confusion among us, the absence of purpose with which so many of us must live?