"…But not me, baby; I've got you to save me
Oh yer so bad, best thing I ever had
In a world gone mad, yer so bad…"
From, "Yer So Bad", by Tom Petty
"Do not act as if you were going to live ten thousand years. Death hangs over you. While you live, while it is in your power, be good."
Marcus Aurelius
If you can't be good, be careful. If you can't be careful – be lucky. And many over the years have noticed that fortune favours the bold.
Are you familiar with the blog, "Moon of Alabama"? Most readers here are, but if you are not, you should be. It's kind of like newspapers used to be, back before they were owned as business investments, staffed by corporate whores, written by political hacks and read by simpletons. A place you can go to read what happened, and draw your own conclusions based on what you read. As some professional writers counsel in workshops, write the book you want to read. I wouldn't go so far as to say it is not partisan, because everyone who writes for the public is a little bit biased one way or another, and it's hard to keep that from creeping into your writing – moreover, a lot of stories on Moon of Alabama and other blogs I like to read appear after a shameless attempt in the popular press to shape and steer the narrative; a casserole made of layers of bullshit seasoned with a soupçon of lies. And it's hard to write uninflected straight talk when you're angry, or at least it is for me; writing a rebuttal presupposes you disagree.
Anyway, a big draw at Moon of Alabama, as well as the quality analysis by the author, is the quality of the comments and the valuable leads featured therein. Nobody is more aware than I that your writing effort is a fraction as effective as it might be without astute commenters who can put it together and run with it, making the whole greater than the simple sum of its parts. And I often discover quality sources and links from the comments as much as the story itself – that's what keeps a story alive. Sure, those stories were already out there; the commenter is guiding you to it by offering you the link. But too often to be coincidence, the first place I find sources that substantiate the way things are really happening is at Moon of Alabama.
Like this one: Gazprom sent some of its turbine compressor units back to the manufacturer for what appears to be routine maintenance. The comment – from karlof1, which links back to one Karl Sanchez – was not supported by a link but featured a quote from a news story. So I checked it out in a search, and it appears to be accurate. Sending bespoke technology back to the manufacturer for scheduled maintenance is common practice, or sometimes a field service representative shows up onsite where the equipment is installed if it's too hard to remove and ship. The point is that if you continue to operate the system past the date it is scheduled for routine maintenance and examination, and something breaks or burns out, you have voided the warranty. Some sources claim the gas-compressor turbines, which were built by German company Siemens, originated in Canada, while others claim they were supplied by the UK.
Either way, the Siemens representative host country accepted the turbines – and then claimed to be unable to return them because doing so was prohibited by sanctions.
So – and again I am interpreting what I read, because it is not spelled out and sometimes is masked by diplo-speak – it appears that Gazprom responded by taking other compressors which were coming up to their scheduled maintenance date offline. On the face of it, Gazprom looks to have little choice; sending the compressors for maintenance will result in them being impounded, while using them beyond their scheduled maintenance deadline will void their warranty. Pretty much the textbook definition of 'impasse'.
But the important thing here is the immediate effect – a 40% reduction in the pipeline gas supply sent to Europe via Nord Stream 1. And that news comes on the heels of an explosion and subsequent fire at the LNG terminal in Freeport, Texas, which has knocked an important supplier of US LNG out of service for what was originally projected to be about 3 weeks, and now looks more like 3 months. European natural gas prices that were already at or near record highs jumped another 20%.
Some might be moved to suggest this is great news for Ukraine, which likely will once again volunteer its pipeline network for additional volumes to help its generous European benefactors. But let's not forget where the gas comes from. Russia has thus far declined to send additional volumes across Ukraine, and is about as likely to do so now as it is to hit itself in the face with a cast-iron skillet. Ukraine has been shrieking since 2014 that Russia is the enemy and an unapologetic aggressor, and the two are fighting a compartmentalized but hot war right now. So it looks like Europe is going to have to tighten its gas-burning belt again, just when Uncle Sam cannot ride to the rescue with molecules of freedom. I'm sure Rick Perry is abjectly sorry he ever came up with that term, but I just enjoy saying it.
Quite a substantial number of people have already speculated that Europe is in for the winter of its life. And it might be, but it is going to feel the closing jaws of crisis well before the snowflakes fly – much of Europe is currently broiling to a tasty golden brown under a merciless heat wave (the trendy term is a 'heat dome') that is warned to worsen in the coming days and weeks. That has sent European electricity prices wiggling frantically upward. And Italy, the UK, Ireland and the Netherlands all generate more than 30% of their electricity needs from industrial plants powered by natural gas; in Italy's case it is nearly half.
What effect is the new normal having around the world? In the Exceptional Nation, the highest rate of inflation in more than 40 years. A national gasoline price average of more than $5.00 a gallon. A record high grocery-price inflation of 14.6% year-over-year.
"Laura Veldkamp, a finance and economic professor at Columbia University, suggested people try renegotiating salaries with their employers. "Prices will not come back down," she said. "They never do." Dipping into savings to cope with rising prices is not a sustainable long-term solution, she added."
Unless profits are up rather than being simply absorbed into the higher costs of logistics and transport, I would suggest employers are unlikely to be receptive to negotiations for higher salaries. Unless you have a bulge under the arm of your suit jacket that they might think is a shoulder holster.
What about Europe? In Germany, higher inflation, lower growth.
"The purchasing power of disposable incomes is massively affected by high inflation," the IfW said in a report. "In the current year, real disposable incomes will therefore again decline significantly."
Well, that's good news, surely. Of course I was being sarcastic.
In fact, proceeding on the advice that a picture is worth a thousand words, the graph featured below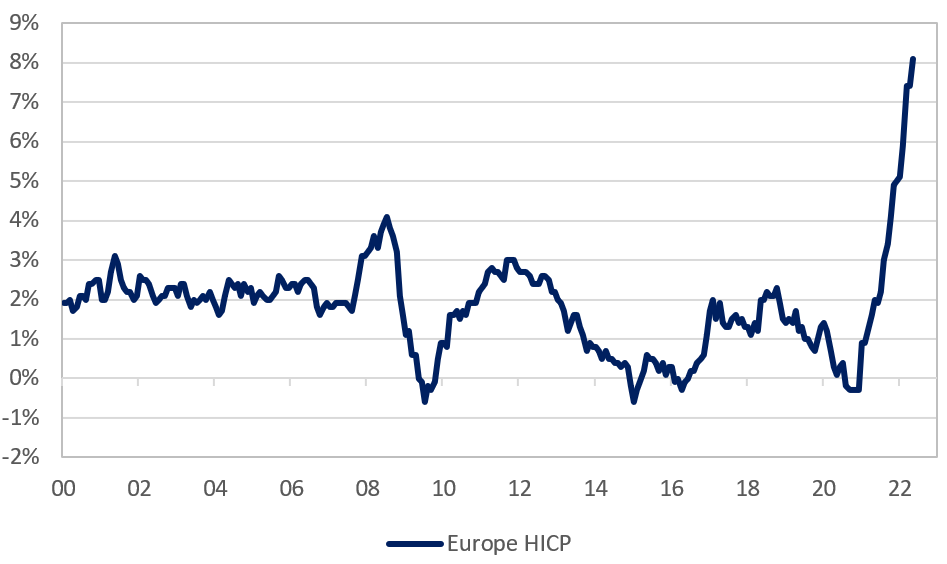 (courtesy of Refinitiv, a harmonized index of consumer prices) displays Eurozone inflation since 2000. Remember the global financial crisis of 2008? Were you scared then? Well, if you live in Europe, and where the ink stops right now doesn't make you run about a pint of hot urine through your shorts, how many fingers am I holding up?
In the UK, where hating Russia is nearly as popular as soccer, the loss of momentum for business growth was a survey record outside of lockdown. Bidford, one of the UK's biggest food wholesalers, warned that portion sizes for children's school meals might have to be cut and cheaper ingredients used due to escalating costs.
In fact, there's no real purpose in continuing a round-robin of global economic woes – I'm sure it's clear enough that the world economic situation is in a serious crisis. But what if it's deliberate?
Conspiracy theory? Nutjobbery? Might be. But how often just in the last decade have we seen the mainstream media and the think-tank brigade scornfully reject an allegation, only to have it later and much more circumspectly revealed as truth? Here's a source that thinks – and to a pretty significant degree substantiates – the unfolding economic catastrophe not only has nothing to do with Russia, Putin or the war in Ukraine, it has everything to do with that lovable Davos crowd with its big heads and  just-crawled-out-of-a-casket undead leader, Klaus Schwab.
I have to admit the site gained respectability for me from a glance at the post's tags, indexes under which categories posts are sorted and filed; I laughed out loud when I read "Big Government, Big Stupid Government, Notorious Liars, Professional Idiots". How many – show of hands, please – think those labels are unfair descriptors of western government leaders and executives?
Well, let's take a look at it, and once we've gone over it, I'd like you all to reflect a moment and see if you think the pattern of behavior in the west deserves suspicion. Does it seem like the adherence to the Build Back Better agenda is a little rose-coloured-glasses under the current circumstances? Is the author totally off-base in his contention that the drive toward dumping the fossil-fuels economy and an aggressive push for 'greening' and 'renewables' has taken on a fanatical momentum? Does Ursula von der Leyen mention 'digitalization' every time she opens her mouth, or is that just my imagination?
"Factually, massive global inflation began in early 2021 as an outcome of Western government spending and monetary policy. The U.S. Federal Reserve, EU and western alliance central bankers created the issue and were always going to face inflation as an outcome of their agreed direction. As the inflation started to become a serious political problem for them, the Ukraine conflict became the excuse, the blanket to hide the real origin of the problem."
Perhaps that's true, but I would suggest it was even earlier than that, since the big cash giveaways using taxpayers' money started at least a year before, in 2020. In Canada, we had the Canada Emergency Response Benefit (CERB), $2000.00 issued to millions of Canadians to 'get money into their hands quickly', because the lockdowns practically nobody but governments wanted drove hundreds of thousands of people out of work. The USA issued similar generous benefits to its population, largess that will all have to be paid back, or at least that's what we say as a matter of policy, although the United States had already inched out on the debt limb well past sustainability in the current monetary system.
"We can debate the individual motives of the NATO leaders who aligned with the sanctions against Russia, and whether they knew they were participating in a series of events that would only follow one direction, but the economic outcome was never in doubt.   Inflation that hits the citizens, fuel and gasoline prices that crush the working class, scarcity of goods and the potential for world-wide food issues are a consequence.  The people attached to the World Economic Forum are not stupid – ideological, yes, but not stupid. They knew this would happen.
The International Monetary Fund (IMF) is a global financial mechanism located in Washington DC.  According to the U.S. Treasury Department, "The IMF is an organization of 189 member countries that works to foster global monetary cooperation, secure financial stability, facilitate international trade, promote high employment and sustainable economic growth."  Put in succinct terms, the IMF is the financial control mechanism for western government."
Are….are you suggesting…the financial control mechanism for western government is deliberately moving away from traditional energy drivers in favour of an at-present-completely-unsupported utopian 'green economy' supported by 'renewables'? Doesn't that sound just a little, to you, like Yeltsin's drive to so completely distance the Soviet Union from Communism that there would be no way it could go back? As I recall, that didn't turn out too well – it was popularly known among the movers and shakers of the economic world as 'shock therapy' for a reason.
"Think of it this way… If Russia was to just simply withdraw from Ukraine, do you think the western financial sanctions and multinational corporations would just reverse themselves?   Of course not.  What was never mentioned in the sanction package, pushed by NATO and western alliance, was the no retreat Rubicon they created.  Removing Russia from the SWIFT financial exchange was/is irreversible; so too are the global banking sanctions triggered by political will.
Klaus Schwab and the WEF/Davos crowd will look happily at a western financial system valued on the currency of a collaboration of nations similar in value to how the Euro was established."
Is this what I think it is? A western government consortium pushing its combined electorates toward a climate-change, Greta Thunberg green model western economy independent of the fossil-fuels community??
"The global economic problem (debt and inflation) was directly caused by the collective western government response to COVID. However, now there's another aspect that makes the debt and inflation seem small by comparison. Changing the energy baseline of western economies away from oil and gas has moved from esoteric theory into actual practice."
Once again, I would suggest the cracks in the western economic fortress, led by the spiraling debt of the United States when its repeated attempts to regain momentum by knocking over oil-rich countries and exploiting their resources was a cascade of failures, started much earlier than COVID, although the pandemic provided a convenient medium for crashing the existing economy even as anyone who suggested that was happening was hounded off the soapbox as a raving loon. But do western leaders really think such an unsupported leap is feasible?
Because it's not like they don't know better. A little while ago, Nicola Avery posted a report of a study conducted by British scientists – yes, I know, "Follow the Science" has all but destroyed the credibility of science altogether, but bear with me for a moment – which reminded the inhabitants of cloud-cuckoo land that 'going green' depends upon exploitation of non-renewable resources at least as much as the current energy model does. There were a lot of hard-hitting truths voiced, but one of the better encapsulating paragraphs was this one:
"Over the next few decades, global supply of raw materials must drastically change to accommodate not just the UK's transformation to a low carbon economy, but the whole world's. Our role as scientists is to provide the evidence for how best to move towards a zero-carbon economy – society needs to understand that there is a raw material cost of going green and that both new research and investment is urgently needed for us to evaluate new ways to source these. This may include potentially considering sources much closer to where the metals are to be used."
Except for the replacement of "evaluate" with "discover", the referenced paragraph is pretty much self-explanatory. A so-called 'zero-carbon economy' is going to have to replace our dependency on fossil fuels extracted from the earth with massively stepped-up extraction of various naturally-occurring minerals and rare earths which are in finite quantities. Just like oil, the low-hanging fruit will be snapped up first, but extraction will become increasingly more difficult and less lucrative for investors, as available supplies dwindle. Do you like statistics? I'm not fond of them myself, but I found these compelling:
"To replace all UK-based vehicles today with electric vehicles (not including the LGV and HGV fleets), assuming they use the most resource-frugal next-generation NMC 811 batteries, would take 207,900 tonnes cobalt, 264,600 tonnes of lithium carbonate (LCE), at least 7,200 tonnes of neodymium and dysprosium, in addition to 2,362,500 tonnes copper. This represents, just under two times the total annual world cobalt production, nearly the entire world production of neodymium, three quarters the world's lithium production and 12% of the world's copper production during 2018. Even ensuring the annual supply of electric vehicles only, from 2035 as pledged, will require the UK to annually import the equivalent of the entire annual cobalt needs of European industry.
The worldwide impact: If this analysis is extrapolated to the currently projected estimate of two billion cars worldwide, based on 2018 figures, annual production would have to increase for neodymium and dysprosium by 70%, whilst cobalt output would need to increase at least three and a half times for the entire period from now until 2050 to satisfy the demand."
Just to be sure everyone grasps the significance of those figures, that was almost twice the entire world's contemporary output of cobalt, nearly the entire annual world output of neodymium (a mineral used to make powerful permanent magnets where low magnet mass and/or powerful magnetic fields are required), and 75% of the world's production of lithium, just to electrify all the cars in the UK. Not anywhere else in the world, just so everyone understands. This would make all cars – and naturally the figures were estimated, it might be a bit more, might be a bit less – in the UK powered by electricity, presumably from storage batteries. The study did not take into account charging stations to service the British electric fleet, and given that you can gas up in considerably less than 5 minutes even if you fill the tank, but must remain plugged in to a 'green' charging station for at least three times that long, even if such a system charges four vehicles simultaneously, the planners are likely looking at a lot more real estate being dedicated to charging stations than is currently dedicated to gas stations.
Where do the minerals and rare earths come from? I'm glad you asked. Most of the commercial neodymium is mined in China, although it is a relatively-common material. In fact, we could just cut to the chase and satisfy ourselves that China is the dominant producer of rare-earth elements. The USA alone accounts for more than 34% of China's rare-earth exports.
Is it in China's interests to help its biggest geopolitical enemy – self-declared – achieve a controlling interest in a new energy model? Might be, if China thought it was pie-in-the-sky wide-ranging stupidity and that doing so would mean a greater share of the much-cheaper fossil fuel supplies for itself.
Is mining – the means by which we would obtain the materials to make billions of batteries – a clean technology? It sure as hell is not. Moreover, the biggest share of global pollution from mining results from the use of fossil-fuel-burning equipment used to generate electrical power for mining operations. So before you think about everyone driving around in a Tesla, better think about how you're going to replace all the mining equipment with green power, or else you're kind of going backwards, since mining operations would have to go into overdrive.
It is becoming obvious to me that the potential for discussion here is going to eclipse the scope of this post, as in many ways I am just guessing and the post has to be limited to what I can write without getting too tired. And before that happens, I want to wrench things back to where we started.
If the west is determined to hitch its wagon to some utopian – I know I used that word a lot, but with good reason, since Utopia describes an imaginary community which lives under perfect conditions and is generally a synonym for 'unattainable' – energy-generation model that is outside the fossil-fuels community…what will that mean for those nations that choose not to follow this madcap departure from the rails of reality?
Cheaper development, for one thing: infrastructure, research, public education, security…so long as the traditional economy continues to be supported by real assets and not digital keystrokes, it should be considerably cheaper for traditional-economy nations to finance themselves, since even the most starry-eyed proponents of the digital green economy acknowledge it is going to be tremendously expensive. Added to that, much of the Utopians' materials and services are going to have to come from the traditional economy, which presumably is not going to sell them for a handful of kilobytes.
A month ago, Biden's energy secretary – Jennifer Granholm – told a hearing that they could 'thank Vladimir Putin' for high gas prices rather than Biden's spastic energy policies. Republican Senator Josh Hawley complained that was 'utter nonsense'.
"With all due respect, Madam Secretary, that's utter nonsense," Hawley responded as Granholm asserted, "It is not administration policies that have affected supply and demand."
Her denial prompted Hawley to offer a brief reminder on Biden's attack on American energy independence.
"And here's what your president did when he first came to office," the senator said. "He immediately reentered the Paris Climate Accord. He canceled the Keystone Pipeline. He halted leasing programs in ANWR. He issued a 60-day halt on all new oil and gas leases and drilling permits on federal lands and waters. That's nationwide."
"He directed federal agencies to eliminate all supports for fossil fuels. He imposed new regulations on oil and gas and methane emissions. Those were all just in the first few days. Are you telling me that had no effect on our energy supply?"
Granholm continued to stubbornly maintain that 94% of oil and gas executives surveyed said the administration's policies had no effect on increases in the price of oil. Nope, it was all Vladimir Putin, just as everything that has gone wrong in the world since he took over the reins in Russia has been down to him. Which, I imagine, reminds everyone right away of Hillary Clinton and the 17 US Intelligence agencies which told her Russia was behind hacking of the election which cost her the presidency. Another claim which was never demonstrated to be true.
In western reporting on the Ukrainian crisis, Russia and 'Putin' are always 'desperate' – Putin desperate as Russia runs low on precision weapons, Russia tries desperately to reorient its forces after losing the Battle of Kyiv, The Kremlin desperate to cover up its war crimes…and so on and so on. But Russia is not desperate – western journalists have got hold of the wrong 'd' word. What it is is 'determined'. Maybe 'deliberate'. And it keeps on keepin' on, grinding the Ukrainian forces into dust as an increasingly bitter President Zelensky proudly rejects the territorial concessions his western backers know he will have to make, because Zelensky believed them when they told him he would win, and they knew better. It now looks as though Ukraine, in addition to having to recognize that Crimea is a part of the Russian Federation forever and is not coming back, and having to acknowledge and execute the responsibilities it signed on for in the Minsk Agreements but thought it would never have to honour, because nobody could make it…may have to wave a tearful farewell also to Kherson and Zaporozhye, both of which are dipping a toe into the self-determination waters, or perhaps are thinking about joining with the eastern republics which were called the DNR and LPR, once completely liberated.
Sanctions, which are not breaking Russia's will and economic measures which serve only to promote permanent market divisions result in popularity ratings for Mr. Putin which fluctuate reliably between 70% and 80% – the most recent sample was 83% – and serve as a bellwether that his electorate rightly blames the west for the vendetta against it. So why does it continue? Biden's approval among his electorate is less than half that, and the lowest of his presidency at 39.7%. Germany's Olaf Scholz has approval ratings lower yet, but his idiot countrymen are apparently sold on Baerbock's fiery war rhetoric and Habeck's this-is-our-chance-to-go-green blabbering, so Germany deserves its fate. Macron's approval was around 37% just before the recent election – which he won nonetheless, which tells you a lot about the lunacy of politics and the ridiculous notion that 'the people decide'. Saving the best for last, not even a quarter of the British electorate approves of Boris Johnson's performance, and that's an appropriate noun considering he behaves like a circus monkey. There is no suggestion of reconciliation between a country in which more than 80% approve of their president's leadership, and an international bloc which is so stricken with madness in its drive to expunge Russia from existence that even art pieces in international museums are being returned if they come from Russia or are linked to it. The rift is hardening and becoming permanent. But the Utopian economy now has no developing markets, only an incestuous trading loop among its own mature economies. And now it is deciding to go its own way on energy, too, with a policy that seems quite a bit like the way you go ahead with an introduction of someone whose name you can't remember, hoping it will come to you before you reach the part where you have to say it.
Who looks like a statesman, and who looks like an idiot?
In a way, it's a pity Mr. Putin's familiar name is not 'Vlad', as the western press calls him when it wants to be extra-contemptuous and disrespectful; the familiar for Vladimir is 'Vova', or Vovochka, although I doubt anyone has called Mr. Putin that since he was a small child. But the former label would have rhymed so well.
In a world gone mad, yer so bad. Vlad.