"The receptivity of the masses is very limited, their intelligence is small, but their power of forgetting is enormous. In consequence of these facts, all effective propaganda must be limited to a very few points and must harp on these in slogans until the last member of the public understands what you want him to understand by your slogan."
– Adolf Hitler
We're going to do something just a bit different today; the event I want to talk about is current – in the future, actually – but the reference which is the subject of the discussion is almost a year old. and the event it discusses is coming up to its sixth anniversary. The past event was the downing of Malaysia Airlines flight MH-17 over Ukraine, the future event is the trial in absentia of persons accused by the west of having perpetrated that disaster, and the reference is this piece, by Mark Galeotti, for the Moscow Times: "Russia's Roadmap Out of the MH17 Crisis".
You all know Mr. Galeotti, I'm sure. Here's his bio, for Amazon:
"Professor Mark Galeotti is a senior researcher at UMV, the Institute of International Relations Prague, and coordinator of its Centre for European Security. Formerly, he was Professor of Global Affairs at New York University and head of History at Keele University. Educated at Cambridge University and the LSE, he is a specialist in modern Russian politics and security and transnational organized crime. And he writes other things for fun, too…"
Yes, yes, he certainly does, as you will see. But this bio is extremely modest, albeit he most likely wrote it himself. Mr. Galeotti also authored an excellent blog, In Moscow's Shadows, which was once a go-to reference for crime and legal issues in Russia, a subject in which he seems very well-informed. The blog is still active, although he seems mostly to use it now to advertise podcasts and sell books. That's understandable – it's evident from the blur of titles appended to his name that he's a very busy man. Always has been, really; either as a student or an educator. He also speaks with confidence on the details of military affairs and equipment…despite never having been in the military or studied engineering; his education has pretty much all been in history, law or political science.
I know what you will say – many of the greatest reference works on pivotal battles, overall military campaigns and affairs were written by those who had no personal military experience themselves. Mr. Galeotti studied under Dominic Lieven, whose "Russia Against Napoleon" was perhaps the greatest work of military history, rich with detail and insight, that I have ever read. It won him the Wolfson prize for History for 2010, a well-deserved honour. Yet so far as I could make out, Mr. Lieven never served a day in uniform, and if you handed him an AK-47 and said "Here; field-strip this", your likely response would be a blank look. He most certainly was not a witness to the subject military campaign. No; his epic work on Napoleon's invasion of Russia was informed by research, reading the accounts of others who were there at the time, poring over reams of old documents and matching references to get the best picture we have been afforded to date of Napoleon's ignominious defeat through a combination of imperial overreach, a poor grasp of logistics and, most of all, resistance by an adversary who refused to be drawn into playing to Napoleon's strength – the decisive, crushing battle in which the enemy could not retreat, and in which Napoleon would commit all the reserves and crush his enemy to dust.
So it is perfectly possible for an inquisitive mind with no military experience to put together an excellent reference on military happenings which already took place, even if the owner of that mind was not present for the actual event. Given human nature and the capabilities afforded by modern military equipment, it is even possible to forecast future military events with a fair degree of accuracy, going merely by political ambitions and enabling factors, without any personal military experience. After all, the decision-makers who give the orders that send their military forces into battle are often not military men themselves.
Returning for a moment to Mr. Galeotti, it is quite believable that an author with no military background could compose such works as "Armies of the Russian-Ukrainian War", although there is no serious evidence that Russia is a part of such a conflict in any real military strength. You could write such a book entirely from media references and documentation, which in this case would come almost entirely from the side which claims it is under constant attack by the other – Ukraine. Likewise "Kulikovo 1380; the Battle that Made Russia". None of us were around in 1380, so we all have to go by historical references, and whoever collects them all into a book first is likely to be regarded as an expert.
No, it's more when we get into how stuff works that I have an issue with it. Like "Spetsnaz: Russia's Special Forces". Or "The Modern Russian Army". I'm kind of skeptical about how someone could claim to know the actual internal workings of either organization simply from reading about them in popular references, considering that more than half the material on Russia written in English in western references is rubbish heavily influenced by politics and policy. We would not have to look very far to find examples in which ridiculous overconfidence by one side that it had the other side's number resulted in a horrible surprise. In fact, we would not have to look very far to find an example of this particular author confidently averring to know something inside-out, only to find that version of reality could not be sustained. And I would no more turn to a Senior Non-Resident Fellow at the Institute of International Relations Prague for expert analysis of the "Combat Vehicles of Russia's Special Forces" than I would ask a house painter to cut my hair. Unless I see some recollections of a college-age Galeotti tinkering with drivetrains and differentials until the sun went down from a pure love of mechanics, I am going to go ahead and assume that he knows what the vast majority of us knows about military vehicles – he could pick one out of a lineup which included a melon, a goat and an Armored Personnel Carrier, and if it had a flat tire he could probably fix it given time and the essential equipment.
Just before we move on, the future event: the MH-17 'trial' has been postponed until June 8th, to give defense attorneys more time to prepare after the amazingly fortuitous capture of a 'key witness' in Eastern Ukraine. I'm not going to elaborate here on what a kicking-the-can-down-the-road crock this is; we'll pick that up later. The whole MH-17 'investigation' has been such a ridiculous exercise in funneling the pursuit to a single inescapable conclusion – that Russia shot it down –  irrespective of how many points have to be bent to fit the curve that no matter how it comes out, it will stand as perhaps the greatest example of absurd western self-justification ever recorded.
There are a couple of ways of solving a mystery crime. One is to collect evidence, and follow where it takes you. Another is to decide who you want to have been responsible, and then construct a sequence of events in which they might have done it. To do that, especially in this case, we will have to throw out a few assumptions, such as all that stuff about means, motive and opportunity. In the absence of a believable scenario, that is. Let's look at what we have, and what we need, and see how we get from there to here.
First, we need for Ukraine not to have been responsible. That's going to be awkward, because it looks as if the aircraft was shot down by a missile, but the missile had to have come from inside Ukraine, because the aircraft was too far from the nearest point in Russia at the moment it was stricken for the missile to have come from there. But we need Russia to have been responsible, and not Ukraine. Therefore we need a sequence of events in which a Russian missile launcher capable of shooting down an airliner at cruising altitude was inside Ukraine, in a position from which it could have taken the shot.
You know what? We are going to have to look at means, motive and opportunity, just for a second. My purpose in doing so is to illustrate just how improbable the western narrative is, starting from square one. The coup in Ukraine – and anyone who believes it was a 'grass-roots revolution' might as well stop reading right here, because we are going to just get further apart in our impressions of events – followed by the triumphant promise from the revolutionaries to repeal Yanukovych's language laws and make Ukrainian the law of the land touched off the return of Crimea to its ancestral home in the Russian Federation. Crimea was about 65% ethnic Russian by population at the time, and only about 15% Ukrainian, and Crimea had made several attempts to break free of Ukraine before that…yet for some reason the west refused steadfastly to accept the results of a referendum which voted in favour of Crimea becoming a part of the Russian Federation, as if it were more believable that a huge ethnic-Russian majority preferred to learn Ukrainian and be governed by Kiev.
Be that as it may, Washington reacted very angrily; much more so than Europe, considering the distance between the United States and Ukraine versus its proximity to Europe. Perhaps that is owed simply to Washington's assumption that every corner of the world looks to it for leadership, and that it must have a position ready on any given situation, regardless how distant. So Washington insisted there must be sanctions against Russia, for stealing Crimea from its rightful owner, Ukraine. We're not really going to get into struggles for freedom and the right to self-determination right now, except to state that the USA considers nothing more important in some cases, while in others it is completely irrelevant. Washington demanded sanctions…but much of Europe was reluctant.
"It is notoriously difficult to secure EU agreement on sanctions anywhere because they require unanimity from the 28 member states. There were wide differences over the numbers of Russians and Crimeans to be punished, with countries such as Greece, Cyprus, Bulgaria and Spain reluctant to penalise Moscow for fear of closing down channels of dialogue. The 21 named were on an original list that ran to about 120 people…Expanding the numbers on the sanctions list is almost certain to be discussed at the EU summit on Thursday and Friday. Some EU states are torn about taking punitive measures against Russia for fear of undoing years of patient attempts to establish closer ties with Moscow as well as increase trade. The EU has already suspended talks with Russia on an economic pact and a visa agreement…The German foreign minister, Frank-Walter Steinmeier, said any measure must leave "ways and possibilities open to prevent a further escalation that could lead to the division of Europe".
The original list of those to be sanctioned was 120 people. The haggling reduced that to 21. Only 7 of those were Russians. Putin was not included. That was pretty plainly not the United Front That Speaks With One Voice that Washington had envisioned, and the notion that Europe would buy into sanctions that might really do some damage to Russia, albeit there would be economic costs to Europe as well, was a dim prospect.
Gosh – you know what we need? An atrocity which can be quickly tied to Russia, and which will so appall the EU member states that resistance to far-reaching sanctions will collapse. That's called 'motive'. It's just not a motive for Russia. Having just gone far out on a limb and taken back Crimea, to the obvious and vocal fury of the United States, it is a bit of a stretch that Russia was looking for what else it could do that would stir up the world against it.
Means, now. That presents its own dilemma. Because Russia could have shot down an airliner from its own territory. Just not with the weapon chosen. The S-400 could have done it; it has the range, easily. But if you were setting up a scenario in which something happened that you wanted to blame on Russia, but they didn't really do it, you must have the weapon to do it yourself, or access to it. By any reasonable construct, Ukraine must be a suspect as well – there was a hot war going on in Ukraine, Ukraine controlled both the airspace and the aircraft that was lost, and the aircraft was lost over Ukrainian territory. But Ukraine doesn't have the S-400. You could use a variety of western systems, but it would quickly be established that the plane was shot down with a weapon that Russia does not have. In order for the narrative to be believable, Russia must have the weapon – but if it wasn't Russia, then whoever did it must have the weapon, too.
Enter the Buk system, with the 9K37 SA-11 missile. It's got the range, it's got the altitude, the Russians have it in active service. Oooo…problem. It's got the range, but only if it was fired from inside Ukraine.
Which brings us back to Mr. Galeotti, an expert in Russian combat systems; enough of an expert to write books on them, anyway. And he plainly believes it was an SA-11 missile fired from a single Buk TELAR (Transporter/Erector/Launcher and Radar) which brought down the Boeing; he says that's what the evidence demonstrates, although by this time (2019) most of the world has backed away from saying Putin showed up with no shirt on to close the firing switch personally (cue the instant British-press screaming headlines before the dust had even settled, "PUTIN'S MISSILE!!!" "PUTIN KILLED MY SON!!!"). Now the story is that the disgraceful deed was done by 'Ukrainian anti-government militants', using a weapon supplied by Russia.
"In this context, a full reversal of policy seems near-enough impossible. The evidence suggests that while the fateful missile was fired by Ukrainian anti-government militants, it was supplied by the Russian 53rd Air Defense Brigade under orders from Moscow and in a process managed by Russian military intelligence.
To admit this would not only be to acknowledge a share in the unlawful killing of 298 innocents, but also an unpicking of the whole Kremlin narrative over the Donbass. It would mean admitting to having been an active participant in this bloody compound of civil war and foreign intervention, to having armed the militants without due thought as to the consequences, and to having lied to the world and the Russian people for half a decade."
We don't really have the scope in this piece to broaden the discussion to Russia's probable actual involvement in the war in Eastern Ukraine. Suffice it to say that despite non-stop allegations by Poroshenko throughout his presidency of entire battalions of active-service Russian Army soldiers inside Ukraine, zero evidence has ever been provided of any such presence, although there have been some clumsy attempts to fabricate it. To argue that the Russian Army has been trying to overrun Ukraine for six years now, but has been unable to do so because of the combat prowess of the Ukrainian Army is to imply a belief in leprechauns. This is only my own inexpert opinion, but it seems likely to me the complete extent of Russia's involvement, militarily, is the minimum which prevents Eastern Ukraine from being overrun by the Ukrainian military, and including the rebel areas' own far-from-inconsequential military forces. I'm always ready to entertain competing theories, though; be sure to bring your evidence. Meanwhile, the Ukrainian Constitution prohibits using the country's military forces against its own citizens. The logic of 'Have cake, and eat it" cannot apply here – either the Ukrainian state is in direct and obvious violation of its own constitution…or the people of the breakaway regions are not Ukrainian citizens.
Anyway, back to the Buk system. And not a moment before time, either – I just re-read
that sanctimonious stab above, again; "…having armed the militants without due thought as to the consequences…" What, exactly, is the ridiculous nature of the accusation being presented here? That the Russians gave an anti-aircraft system to the 'militants' without considering they might use it to shoot down an aircraft? How did they not see that coming? The Ukrainian Army shot down a civilian airliner in October of 2001, and lied about it for as long as it could – interestingly, it took place during joint Ukrainian-Russian air defense exercises on the Crimean peninsula, and Russia tried hard to avoid assigning blame to Ukraine, while at least one Israeli television station claimed the Russians had shot down their own aircraft. This disaster and subsequent lying did not prevent the USA from giving the Javelin missile to Ukraine – did it not occur to them that they might use it to shoot tanks? No due thought to the consequences, obviously.
The Buk air-defense system normally consists of at least 4 TELAR launchers, each with 4 missiles on the launch rails, a self-propelled acquisition radar designated by NATO nomenclature as Snow Drift (the radar on the nose of the TELAR unit itself is designated Fire Dome), and a self-propelled command post, for a minimum of 6 vehicles. Also usually part of the system is a mobile crane, to reload the launchers.  If you were going to supply an air-defense system to militant rebels, why wouldn't you give them the whole system? In a pinch, you might be able to get away without the command post vehicle, although it is the station that collates all the input from the sensors and makes the decision to assign targets for acquisition, tracking and engagement. If you didn't give them the crane vehicle, and perhaps a logistics truck with some reloads, they would be limited to the missiles that came already mounted – once those were fired, they'd have to abandon the system, because they couldn't reload it. Seems a little wasteful, don't you think?
What about the acquisition radar? Because acquiring targets is all about scanning capability and situational awareness. We're going to assume for a moment that you don't use an air defense system exclusively to hunt for airliners, but that you want to defend yourself against ground-attack aircraft like the Sukhoi SU-25. Because, when you think about it, who is more likely to be trying to kill you? A Malaysian Airlines Boeing 777, or an SU-25? The latter is not quite as fast as an airliner at its cruising height of 30,000 ft+, but it is very agile and will be nearly down in the treetops if it is attacking you. You need to be able to search all around, all the time.
That's where the acquisition radar comes in. A centimetric waveband search radar, the Snow Drift (called the 9S18M1 by its designer) has 360-degree coverage and from 0 to 40 degrees of height in a 6-second sweep in anti-aircraft mode, with a 160 km detection range, obviously dependent on target altitude. An airliner, being a large target not attempting to evade detection, and at a high altitude, would quite possibly be detected at the maximum range of which the system is capable. But then the operators would certainly know it was an airliner. And the narrative says whoever shot it down probably did so by accident.
Maybe if it was his first day on the job. Let's talk for a minute about air-defense deconfliction. It would be nice if your Command parked you somewhere that there was nothing around you but enemies. Well, not as nice as parking you across the street from a pulled-pork barbecue joint with strippers and cold beer, but from a defense standpoint, it'd be nice to know that anything you detected, you could shoot. Know something? It's never like that. Your own aircraft are flying around as if they didn't even know you are dangerous, and as everyone now knows, civilian airliners continue their transport enterprises irrespective of war except in rare instances in which high-flying aircraft have been shot down by long-range missiles. That rarely happens. Why? Because an aircraft flying a steady course, at 30,000 ft+ and not descending, is no threat to you on the ground. From that altitude it can't even see you in the ground clutter, and it'd be quite a bombardier that could hit a target the size of a two-car garage with a bomb dropped from 30,000 ft while flying at 400 knots.
And unless you are an idiot, you know it is an airliner. When you are deployed into the field in an air-defense role, you know where the commercial airlanes are that are going to be active. You know what a commercial-aviation profile looks like – aircraft at 30,000 ft+ altitude, flying at ≥400 knots on a steady course, squawking Mode 3 and Charlie = airliner. Might as well take a moment here to talk about IFF; Identification Friend or Foe. This is a coded pulse signal transmitted by all commercial aircraft whenever they are in flight unless their equipment is non-functional, and you are not allowed to take off with it in that state. Mode C provides the aircraft's altitude, taken automatically from its barometric altimeter. All modern air search radars have IFF capability, and a dashed line just below the raw video of the air track can be interrogated with a light-pen to provide the readout. You already know how high the plane is if you have a solid radar track, but Mode C provides a confirmation.
Military aircraft have IFF transponders, too; in fact, most of the modes are reserved for military use. But military aircraft often turn off their IFF equipment, because it provides a giveaway who and where they are. In Ukraine, which uses mostly Soviet military aircraft, both sides are capable of reading each other's IFF, so all the more reason not to transmit. Foreign nations typically cannot read each other's IFF except for the modes which are for both military and civilian use, other than those nations who are allies. Anyway, the point I wanted to make is that the Snow Drift acquisition radar has IFF, and if it detected an airliner-like target at 160 km., the operator would have that much more time to interrogate it and determine it was an airliner. Just to reiterate, the western narrative holds that the destruction of the airliner was a mistake.
I'm going a little further with my inexpert opinion, to say that the Buk system was selected as the 'murder weapon', because it provides a limited autonomous capability. To be clear, the Fire Dome radar on the nose of the TELAR does have a limited search capability, and once the radar is locked on to a target, the TELAR vehicle is completely autonomous. The purpose of the surveillance radar is to detect the target from far beyond the Fire Dome's range, assign it to a TELAR and thereby direct it to the elevation and bearing of the target so that the TELAR's radar knows exactly where to look, and continue to update its position until the TELAR to which it was assigned has locked on to the target.
That autonomous capability is probably what made it attractive to those building the scenario; consider. A complete Buk system of 6, maybe 7 vehicles could hardly get all the way inside Ukraine to the firing position without being noticed and perhaps recorded. But perhaps a single TELAR could do it. The aircraft could be shot down by an SA-11 missile and blamed on Russia – Ukraine has access to plenty of SA-11's. But it is a weapon in the Russian active-service inventory. Further, Galeotti's commitment to the allegation that the single TELAR was provided by Russia's 53rd Air Defense Brigade tells us he supports the crackpot narrative offered by Bellingcat, the loopy citizen-journalist website headed by failed financial clerk Eliot Higgins. Bellingcat claims the Buk TELAR was trucked into Ukraine on the back of a flatbed, took the shot that slew MH-17, and was immediately withdrawn back to Russia.
Ummm….how was that an accident? The Russians gave the Ukrainian militants a single launcher with no crane or reload missiles, so it was limited to a maximum of four shots. Its ability to defend itself from ground attack was almost nil, since the design purpose of mounting a Fire Dome radar on each TELAR is not to make the launcher units autonomous; it is to permit concurrent engagements by several launchers, all coordinated by the acquisition radar and command post. Without a radar of its own on the launcher, the firing unit would have to wait until each engagement was completed before it could switch to a new target, but with a fire-control guidance radar on each TELAR, multiple targets can be assigned to multiple launchers, while the search radar limits itself to acquisition and target assignment.
The Fire Dome radar mounted on the TELAR can search a 120-degree sector in 4 seconds, at an elevation of 6 to 7 degrees. Its search function is maximized for defense against ground attack aircraft, and a single launcher is not looking at 240 degrees of potential air threat axis during each sweep. It is not looking high enough to see an airliner at 30,000 ft+. More importantly for a system which was not designed to shoot down helpless airliners, it leaves two-thirds of a circle unobserved all the time it is searching for a target. And the Russians provided this to the 'militants' for air defense? They should be shot.
A single TELAR with no reloads and no acquisition radar would have to be looking directly at the target when it was activated in order to even see it; it takes 15 seconds for the launcher to swing into line and elevation even when that information is transmitted to it from the acquisition radar. It takes 4 seconds for a scan to be completed when there is a whole two-thirds of a circle that it is not even looking at, and you have to manually force it to search above 7 degrees because it is not designed to shoot down airliners. All this time, the target is crossing the acquisition scope at 400 knots+. Fire Dome has integrated IFF, so if it did by some miracle pick up an airliner in its search, the operator would know from transmitted IFF that he was looking at an airliner. A single TELAR with no reload capability sent on an air-defense mission would have its ass ripped in half by ground-attack aircraft that it never saw – if the autonomous capability is so good, why don't the Ukrainians use them as a single unit? Think of how much air-defense coverage they could provide! Do you see the Ukrainian air-defense units employing the Buk that way? Never. Not once. Four TELARS, acquisition radar vehicle, command vehicle, just the way the system was designed to operate.
Just because it has a limited capability to function in a given capacity should not suggest you would employ it that way. You can use a hockey stick to turn off the bedroom light, and you won't even have to get out of bed. Would you do that? I hope not.
A one-third effective capacity in the air defense role together with the covert delivery and immediate withdrawal suggests that the Russians provided the 'militants' with a single TELAR for the express purpose of shooting down a defenseless airliner. Except nobody is saying that. It was a mistake. Well, except for Head of the Security Service of Ukraine Valentyn Nalyvaichenko, who claimed "Terrorists and militants have planned a cynical terrorist attack on a civilian aircraft Aeroflot AFL-2074 Moscow-Larnaka that was flying at that time above the territory of Ukraine." He further claimed that this was motivated by a desire to 'justify an invasion'. I'm pretty sure if any western authority could prove anything even close to that, we would not have had to wait 6 years for a trial.
Which brings us to the covert delivery and extraction. As part of his personal investigation, Max van der Werff drove the route Bellingcat claimed was the extraction route by which the single TELAR, on its flatbed, was returned to Russia. He verified that there is a highway overpass on the route which is too low for a load that tall to pass underneath. When he pointed this out to Higgins, he was told there is a bypass spur which goes around it, which would allow the flatbed to regain the road beyond without having gone through the overpass. Max drew his attention to the concrete barriers which blocked that road at the top of the hill, and which locals claimed had been in place long before the destruction of MH-17. And that was the end of that conversation. I cannot say enough about the quality of Max's work and his diligent, patient dissection of the evidence. His diagrams of the entry and egress routes as provided by Bellingcat illustrate how little sense they make. It was imperative the guilty Russians get the fuck out of Dodge with the greatest possible dispatch…so they drove 100 kilometers out of their way? Don't even terrorist murderers have GPS now?
Similarly, the simpleminded flailing of the Ukrainian investigators suggests they do not even have much of a grasp of how Surface-To-Air missiles work. In excited posts like this one, the BBC discloses that an exhaust vent from the tail section of a 'Buk missile' (the missile is actually the SA-11, while Buk is the entire system) was found in the wreckage of the crashed plane, while this one even shows terminally-stunned head prosecutor Fred Westerbeke standing next to what is allegedly part of the rocket body of an SA-11, including legible inventory markings, also 'found at the crash scene'.
Do tell.
Let me review for you how an SA-11 missile shoots down an aircraft. Does it pierce it like a harpoon, blow up in a thunderous explosion, and ride the doomed aircraft down to the crash site? It certainly does not. The missile blasts out of the launcher and flies to the target via semiactive homing, which means it has an onboard seeker that updates the missile trajectory, while the radar on the launcher also communicates with it and the missile and the target are brought together in intercept. When the proximity fuse of the missile – this is the important part – senses that the missile's warhead is close to the target, the internal explosive detonates, and a shower of prefragmented shrapnel pierces the area of the plane near where the missile detonated, usually the front, because the missile is constantly adjusting to make sure it stays with the target until intercept.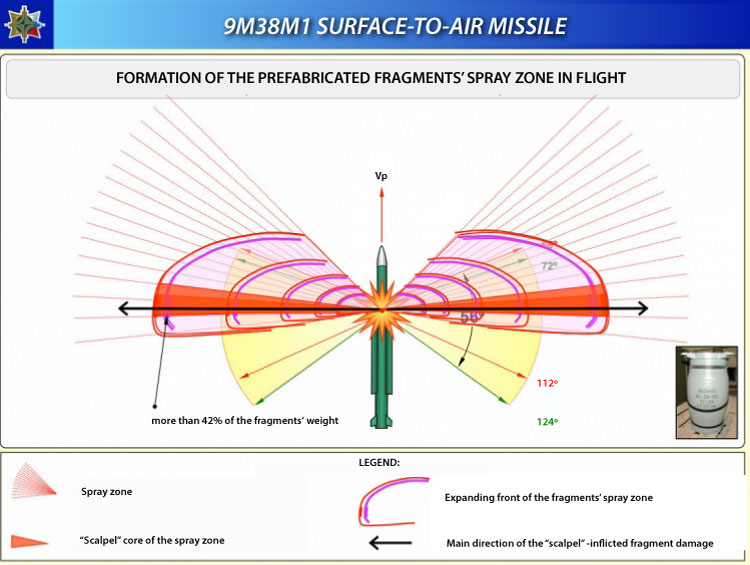 MH-17 traveled on, mostly intact, for miles before it crashed into the ground; the crash site was some 13 miles from where the plane was hit. The missile self-destructed miles away from the crash site, and the only parts of it which accompanied the plane to its impact point were the shrapnel bits of the exploded warhead. The body of the missile, together with the exhaust vent, fell back to the ground somewhere quite close to where the plane was hit, not where it fell. Once the missile's fuel is exhausted, either because it ran out or because it was consumed in the explosion triggered by the proximity fuse, the missile parts do not fly around in formation, seeking out the wreckage and coming gently to rest in it where they can later be found by investigators. I don't know how many times I have to say this, because this is certainly not the first, but there would not be any missile parts in the wreckage of MH-17 because the missile would have blown up in front of the plane without ever touching it. The missile does not hit the plane. The pieces of the warhead do. But reality has to take a back seat to making out an airtight case.
There is no telling what kind of ordnance might be found in the wreckage itself, as the Ukrainian Army continued to shell the site for days after the crash; doubtless various artillery shells could be found at the crash site, as well, but it would be quite a leap of faith to suggest a Boeing 777 was shot down by artillery. What you would not find is pieces of the SAM that shot it down.
Several witnesses claimed to have seen an SU-25 near the plane before it exploded. They quite possibly did – the Ukrainian Air Force was observed to be using civilian airliners as cover to allow them to get close to Eastern-Ukrainian villages which might be protected by hand-held launchers known as MANPADS (for Man-Portable Air Defense System), reasoning the defenders would not shoot if they were afraid they might hit a civil aircraft. Once they were close enough to the village or other target to make an attack run, they would then return to the vicinity of the airliner for protection while withdrawing; the rebel side complained about this illegal and immoral practice a month before the destruction of MH-17. But there is no evidence I am aware of linking the destruction of MH-17 to an attack by aircraft.
It may no longer be possible to look at the shooting-down of the Malaysian Boeing objectively; the event has become a partisan rush to judgment which was rendered immediately, after which an investigation began which plainly had as its goal proving the accusations already made. Means and motive clearly favour the accusers rather than the accused, and opportunity is mostly irrelevant as a consideration. Ukraine obviously had to be a suspect – the destruction of the aircraft occurred over Ukraine while Ukraine was in control of it and the airspace in which it traveled. Yet Ukraine was allowed to lead the investigation, and to gather and safeguard evidence, while the owner of the aircraft – Malaysia – was excluded until the investigation had been in progress for four months. Russia was not allowed any part in it save to yield whatever evidence the investigators demanded, while all its theories were widely mocked. Demonstrations set up by Almaz-Antey, the designers and builders of the SA-11, were unattended by any investigating nation – small wonder they do not have Clue One how the missile works, and believe they are going to find big chunks of it in the wreckage, perhaps with Putin's passport stuck to one of them. If any of these conditions prevailed in an investigation which favoured Russia, NATO would scream as if it were being run over with spiked wheels – if the Boeing had been shot down over Russia, who thinks Russia would have been heading the investigation, and custodian of the evidence?
Nor is that by any means all. The Dutch investigation which concluded with the preliminary report implied that nothing of any investigative value was found on the Cockpit Voice Recorder (CVR) or the Flight Data Recorder (FDR). Nothing to indicate what might have happened to the aircraft – just that it was flying along, and suddenly it wasn't. How likely is that? No transcript was provided, and I guess that would be expected if there was no information at all. Funny how often that happens with Malaysian airliners; they really need to look at their quality control. Oh; except they don't build the aircraft. Boeing does. I could see there not being any information after the plane began to break up, because both the CVR and the FDR are in the tail, and that broke off before the fuselage hit. But the microphones are in the ceiling of the cockpit and in the microphone and earpiece of the pilots' headsets, which they wear at all times while in flight. The last audio claimed to have been recorded was a course alteration sent by Ukrainian ATC.
According to the Malaysian government, there was an early plan by NATO for a military operation involving some 9000 troops to 'secure the crash site', which was forestalled by a covert Malaysian operation which recovered the 'black boxes' and blocked the plan. I have to say that given the many, many other unorthodox and bizarre happenings in the conduct of what was supposed to be a transparent and impartial international investigation, it's getting so nothing much is unbelievable. The Malaysian Prime Minister went on record as believing that the western powers had already concluded that Russia was responsible, and were mostly just going through the motions of investigating.
The telephone recordings presented by the SBU as demonstrating Russian culpability were analyzed by OG IT Forensic Services, a Malaysian firm specializing in forensic analysis of audio, video and digital materials for court proceedings, which concluded the recordings were cut, edited and fabricated. Yet they are relied upon as important evidence of guilt by the Dutch and the JIT.
The conduct of the investigation has been all the way across town from transparent, and in fact seems to represent a clique of cronies getting their heads together to attempt nailing down a consistent narrative, which is in the judgment of forensic professionals based upon clumsy fabrications. The investigators plainly have no understanding of how the weapons systems involved perform, or they would not claim confidently to have discovered pieces of the very missile that destroyed the plane in the wreckage of it. But rather than take an objective look at how this flailing is perceived, they continue to rely on momentum and the appearance of getting things done while being scrupulously impartial, all the while that more mountains of evidence are collected, which they cannot disclose to the public, although it is all right to let the prime suspect keep it safe under wraps.
Make of that what you will.
"Bullshit is unavoidable whenever circumstances require someone to talk without knowing what he is talking about. Thus the production of bullshit is stimulated whenever a person's obligations or opportunities to speak about some topic exceed his knowledge of the facts that are relevant to that topic."
-Harry G. Frankfurt