Nina Khrushcheva is a kreakl. We use that word here a lot, and perhaps not all the readers know what it means. It is a portmanteau of "Creative Class", but makes use of the letter 'k', because the letter 'c' in Russian has a soft 's' sound, so we use the hard 'k'. The Creative Class, or so they styled themselves, were the intelligentsia of Soviet times; the free-thinking liberals who were convinced Russia's best course lay in accommodating the west no matter its demands, in hope that it would then bless Russia with its secrets for prosperity and all the fruits of the American Dream.
A kreakl is a Russian liberal, often the child or grandchild of Soviet-era intellectuals who believed they knew better than anyone else how the country should be run. They express their disapproval of the current government in the most contemptuous way, interpret its defense of family values as homophobia, and consider its leadership – uniformly described by the west as 'authoritarian' – to be stifling their freedom. My position is that their often privileged upbringing insulates them from appreciating the value of hard work, and lets them sneer at patriotism, as they often consider themselves global citizens with a worldly grasp of foreign affairs far greater that of their groveling, sweaty countrymen. Their university educations allow them to rub shoulders with other pampered scions of post-Soviet affluence, and even worse are those who are sent abroad to attend western universities, where they internalize the notion that everyone in America and the UK lives like Skip and Buffy and their other college friends.
Not everyone who attends university or college turns out a snobbish brat, of course, and in Russia, at least, not everyone who gets the benefit of a superior education comes from wealth. A significant number are on scholarships, as both my nieces were. Some western students are in university or college on scholarships as well, and there are a good many in both places who are higher-education students because it was their parents dream that they would be, and they saved all their lives to make it happen.
But many of the Russian loudmouths are those who learned at their daddy's knee that he coulda been a contendah, if only the money-grubbing, soulless monsters in the government hadn't kept him down – could have been wealthy if it were not for the money pit of communism, could have taken a leadership role which would have moved the country forward had the leader who usurped power not filled all the seats with his cronies and sycophants.
Khrushcheva is somewhat an exception to the rule there, because her grandpa actually was the leader of the Soviet Union – First Secretary of the Communist Party of the Soviet Union Nikita Khrushchev. It was he who oversaw the transfer of Crimea to the Ukrainian SSR in 1954, the same year the Soviet Union applied to join NATO. Some references consider Khrushchev her grandfather, and some her great-grandfather; it's complicated. Julia – Khrushcheva's mother – was the daughter of Leonid, who was a fighter pilot in World War II and the son of Khrushchev. When he was shot down in the war and did not return, Khrushchev adopted Julia. Nina Khrushcheva is therefore his biological great-granddaughter, but his adoptive granddaughter.

Now, she's Professor of International Affairs at The New School, New York, USA, and a Senior Fellow of the World Policy Institute, New York. As you might imagine, The New School is a hotbed of liberal intellectualism; as its Wiki entry announces, "…dedicated to academic freedom and intellectual inquiry and a home for progressive thinkers". So let's see what a liberal and progressive thinker thinks about the current state of affairs vis-a-vis Russia and China, and their western opponents.
You sort of get an early feel for it from the title: "Putin and Xi are Gambling with their Countries' Futures". I sort of suspected, even before I read it, that it was not going to be a story about what a great job Putin and Xi are doing as leaders of their respective countries.
Just before we get into that a little deeper – what is the purpose of an 'Opinion' section in a newspaper? If it was 'Facts', then it would be news, because the reporter could substantiate it. As I best understand it, people read newspapers to learn about news – things that happened, to who, and where, when and why, documented by someone who either saw them happen, interviewed someone who did, or otherwise has researched the issue. 'Opinion' sections, then, allow partisans for various philosophies to present their conclusions as if they were facts, or to introduce disputed incidents from a standpoint which implies they are resolved and that the author's view represents fact.
Well, hey; here's an example, in the first paragraph – "Continuing street protests in Hong Kong and Moscow have no doubt spooked the authoritarian duo of Chinese President Xi Jinping and Russian President Vladimir Putin. The Moscow protests, the largest in many years, must be keeping Mr. Putin up at night, or they wouldn't be dispersed with such unabated brutality."
I suppose they have their fingers on the world's pulse at The New School, but I haven't seen any indication at all, anywhere, that either Mr. Putin or Mr. Xi are 'spooked' about anything. The protests in Hong Kong appear to be instigated at the urging of the USA – as usual – with reports that the protesters are receiving western funding, and photographs showing protest leaders apparently meeting with the US Consul-General. Nonetheless, despite the aggressive violence displayed by the protesters, who are certainly not peaceful, the issue seems to be mostly confined to Hong Kong, and there have been no indications I have seen that Beijing is 'spooked' about it at all. In fact, the position of the Chinese government seems fairly reasonable – it does not want to see Chinese criminals escape justice by fleeing to Hong Kong.
As to whether either protests are representative of a large number of people, it is difficult to say: organizers of the Hong Kong protests claim almost 2 million, while the police – responsible for crowd control – say there were no more than a tenth of that number. And if the Moscow protests really were the largest in years, those hoping to see Putin overthrown might want to keep quiet about that; organizers claim about 50,000 people, and organizers usually overestimate the crowd for their own reasons. Moscow is a city of over 13 million just within the city limits. So the massive crowd represents less than half of one percent of the city's population. Polling of the protest crowd suggested more than half of them were from outside Moscow, where who is on the city council is no concern of theirs, since they cannot vote. And in an echo of the iconic Tahrir Square protests, an element of the 'Arab Spring' – probably the first mass demonstrations managed by social media – the Moscow protests appear to be managed and directed via social media links, where it is possible to exercise disproportionate influence on a targeted crowd of restless youth who have little or no personal investment in the country, and just want to be part of what's cool.
Let's move on. According to Khrushcheva, the protests are 'being dispersed with unabated brutality'. That so? Show me. Bear in mind that all these protests are unauthorized, and those participating in them are breaking the law and in breach of the public peace. Flash violence is an objective of the demonstrations, because otherwise their numbers are insignificant, and if they play it by the book nobody pays them any mind. I've seen loads of pictures of the protesters in Moscow being hauled away to the paddywagons, and nobody is bloody or has their clothing ripped. Here are some examples (thanks, Moscow Exile).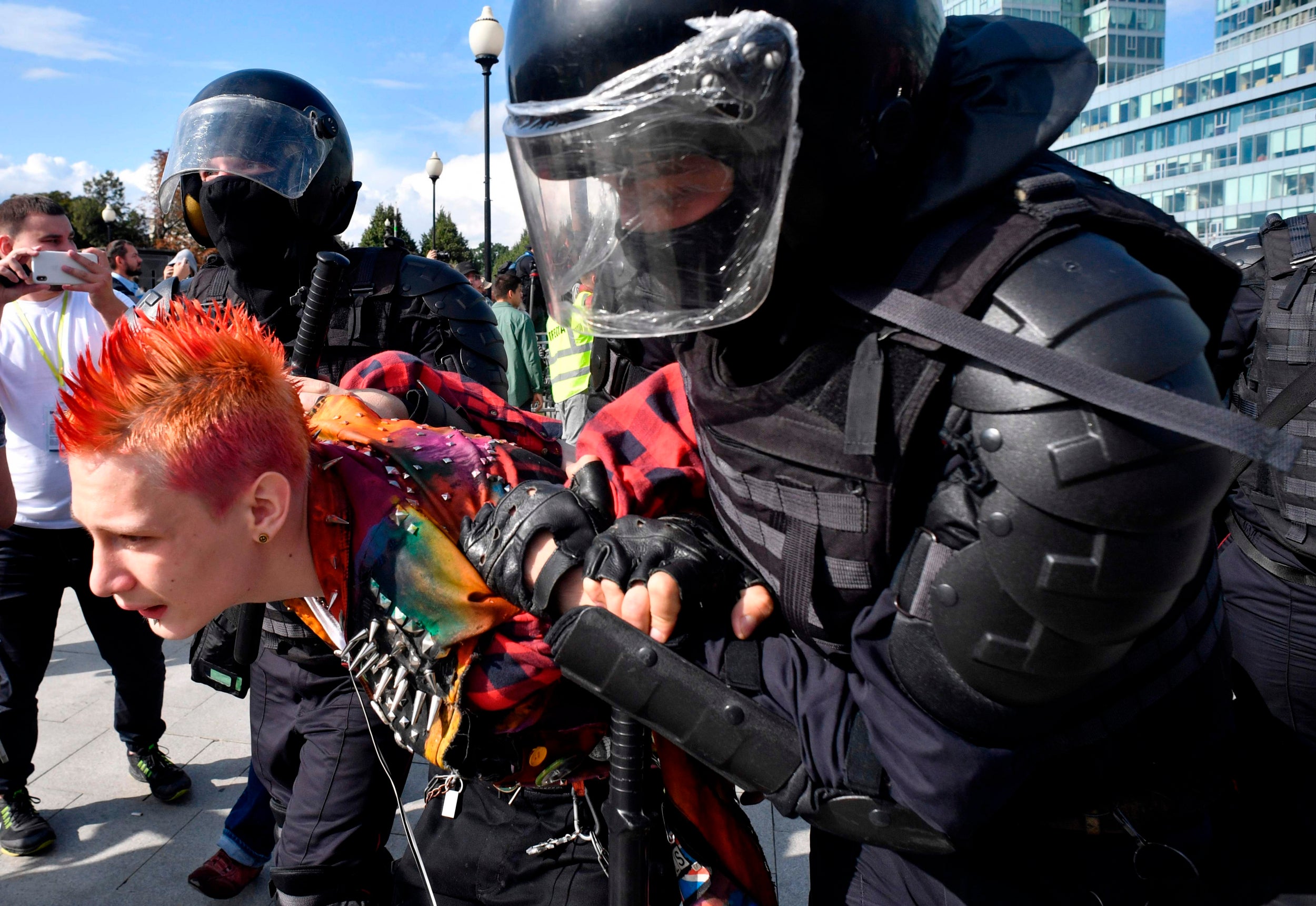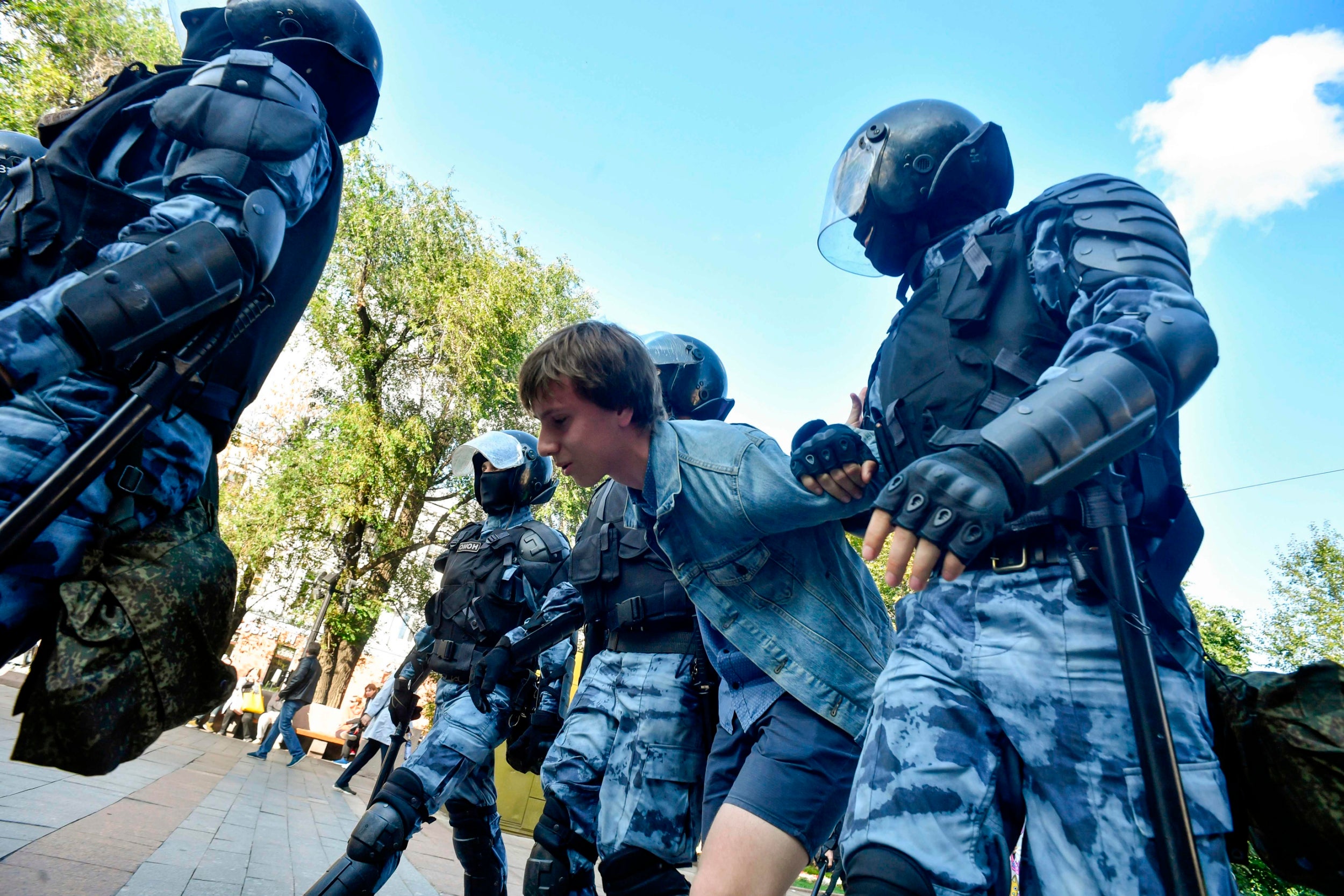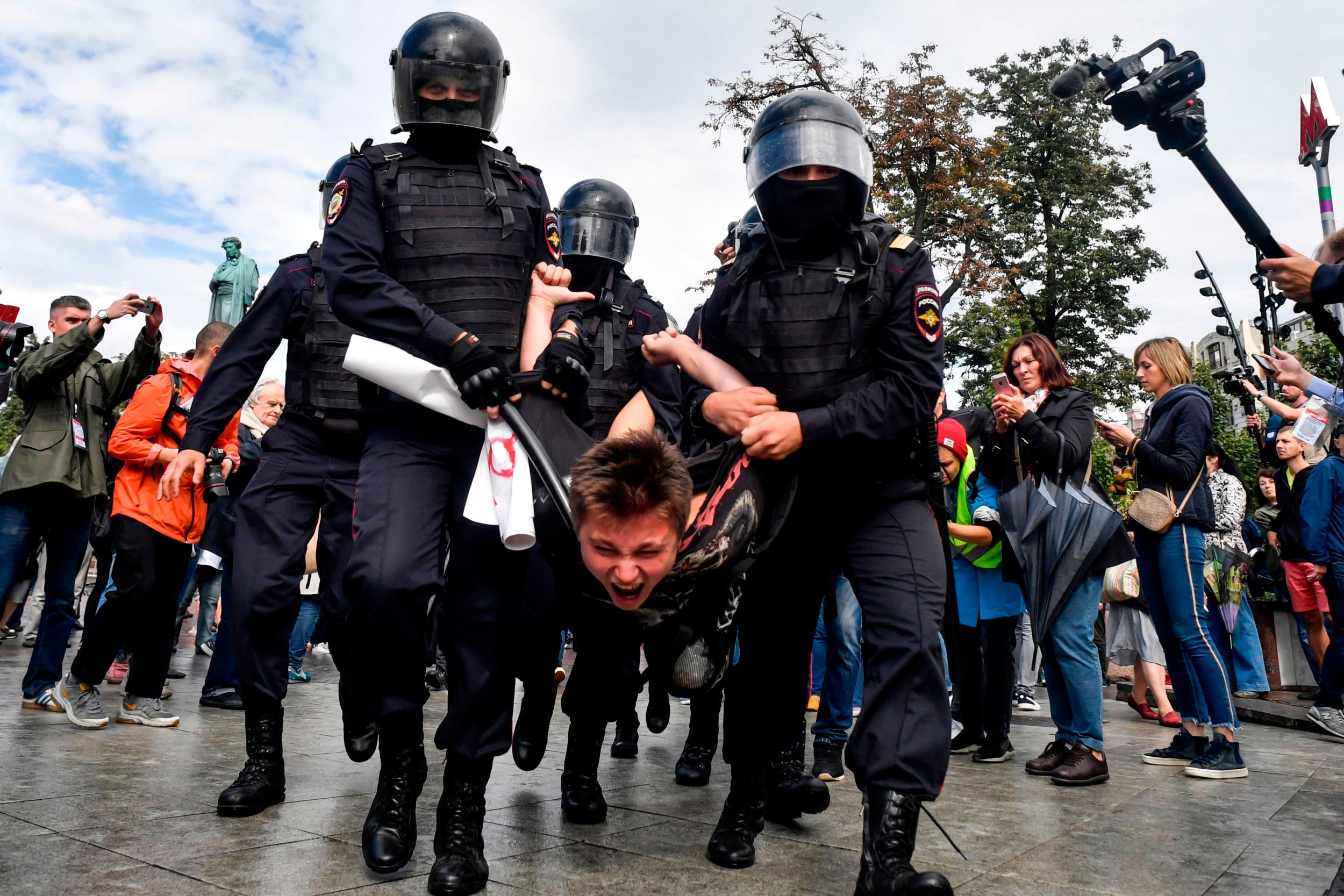 None of those adolescents looks old enough to vote. A video clip of a Chinese policeman using his beanbag gun to disperse protesters has been edited to omit the part where he was swarmed by protesters who were punching him. No citizens who are in high dudgeon at what they are being told is 'unabated brutality' would tolerate unauthorized protests by young hooligans in their own towns for a second, and would scorn any suggestion that they are pursuing noble goals such as freedom and democracy. Fellow demonstrators in these photos seem far more interested in capturing every bit of the action on their phones than in assisting their captured co-demonstrators.
By way of contrast, check out this clip of US police officers in New Jersey arresting a young woman on the beach because there was alcohol – apparently unopened – on the same beach blanket, which she claimed belonged to her aunt. A pretty small-potatoes issue, you would think, compared with the fearless defense of freedom and democracy. Yet the police officers, viewed here on their own body cameras, throw her to the ground and punch her in front of her child although she is obviously not drunk and their breathalyzer test does not register any alcohol on her breath. Bystanders gratuitously and repeatedly advise her, "Stop resisting". People who complain about the way the girl is being handled are told, "Back off, or you'll be locked up, too". For what? Which of these looks like a police state, to you? Nina Lvovna? I'm talking to you.
The demonstrations, we are told, are a poignant sign of Putin's declining popularity. Yes, poor old chap. In fact, Putin's approval rating in 2019 was 64%; it was 70% in 2000, nearly 20 years ago. Just for info, Donald Trump, the Leader Of The Free World, had an approval rating with his own voters of 44% in 2018, and Macron was even worse at 26%. I guess a little Macron goes a long way – his current approval rating is only 28%. His fortunes have not improved much, you might say. Boris Johnson has not yet even properly taken the reins in the UK, but his people do not appear optimistic; about 35% speculate he is or will be a capable leader, while only 23% rate him more honest than most politicians. Enjoy those, BoJo; they represent a zenith born of unreasonable hope – The Economist describes these ratings as 'surprisingly high'. In 2018, the Netherlands' Mark Rutte had only 10% approval – and that was the highest of the ministers – while 34% disapproved. Apparently about half just didn't care.
Look; Khrushcheva is talking out her ass. There just is no way to sugar-coat it. In 2015, Vladimir Putin was the most popular leader in the world with national voters. I daresay he is now, as well; with the state of the world, I find it hard to imagine any other leader has an approval rating higher than 64%. But feel free to look. Polling agencies carefully parse their questions so as to push the results in the direction they'd like to see, but when the question is reduced to a basic "Do you trust Putin? Yes or No?", his approval rating goes higher than it is right now. Please note, that's the reference supplied by Khrushcheva to substantiate her statement that fewer and fewer Russians now conflate their nation with its leader.
I don't personally recall Putin ever saying he hoped Trump would improve relations with Russia, although it would not be an unreasonable wish had he said it. I think he was probably glad Hillary Clinton did not win, considering her shrill Russophobic rhetoric and fondness for military solutions to all problems, but Khrushcheva makes him sound like a doddering old fool who barely knows what century he is living in. I think Russia always hoped for better relations with America, because when any country's relations with America are very bad, that country would be wise to prepare for war. Because that's how America solves its problems with other countries. Washington already had a go at strangling Russia economically, and it failed spectacularly, and we're getting down to the bottom of the toolbox.
Next, Khrushcheva informs us that Russia is in as weak a position to defeat the USA in a nuclear war as it was when it was the USSR. That's true, in a roundabout way. For one, there would be no victors or defeated in a nuclear war. It would quickly escalate to a full-on exchange, and much of the planet would become uninhabitable. For another, Russia was always in a pretty good position to wax America's ass in a nuclear exchange…and it still is. Russia still has about 6,800 nuclear weapons to the USA's 6,500, and has continued to modernize and update its nuclear arsenal through the years. A Russian strike would be concentrated on a country about a third its size. If I were a betting man, I wouldn't like those odds. Mind you, if I were a free-thinking liberal professor who did not have a clue what I was talking about, I would laugh at the odds – ignorance seasoned with a superiority complex tends to make you act that way. Just as well that betting men mostly run the world, and not jackhole liberal professors.
The recent explosion at what was believed to be development of a new nuclear weapon in Russia is assessed by Khrushcheva to be a clear sign of incompetence, which is quite a diagnosis considering no investigation has even started yet. Somehow she missed the dramatic explosion of Elon Musk's SpaceX Falcon 9 rocket, together with its multi-million-dollar satellite payload, back in 2016. Oh, never mind – Musk quickly explained that it was 'an anomaly'. Well, that clears it all up. Must have; the US government has continued to throw money at Musk as if he were embarrassingly naked or something, and nobody seems prepared to suggest it was incompetent. While we're on that subject, the whole reason SpaceX even exists is because the USA continues to use Russian RD-180 rockets developed in the 1960s to launch its satellites and space packages into orbit, because it doesn't have anything better. I'd be careful where I tossed that 'incompetent' word around. Cheer up, though  the news isn't all bad: just a bit more than a year ago, the most advanced commercial reactor designs from Europe and the United States just delivered their first megawatt-hours of electricity within one day of each other. Oh, wait. It is bad news. Because that took place in China. You know, that place where Xi in his unabated brutality is trampling upon the fair face of democracy. In fact, according to nuclear energy consultant Mycle Schneider, principal author of the annual World Nuclear Industry Status Report, "The Chinese have a very large workforce that they move from one project to another, so their skills are actually getting better, whereas European and North American companies haven't completed reactors in decades".
Is that bad? Gee; it might be. "This loss of nuclear competence is being cited by nuclear and national security experts in both the U.S. and in Europe's nuclear weapons states as a threat to their military nuclear programs. The White House cited this nuclear nexus in a May memo instructing Rick Perry, the Secretary of Energy, to force utilities to buy power from unprofitable nuclear and coal plants. The memo states that the "entire US nuclear enterprise" including nuclear weapons and naval propulsion, "depends on a robust civilian nuclear industry." You see, Ninushka, competence in nuclear weapons is directly related to competence in nuclear engineering as a whole.
I hope she knows more about Russia than she does about China – in a single paragraph she has the Chinese government threatening to send in the army to crush protests, and standing aside while thugs beat up protesters – and both are bad. And of course, this threatened action/inaction had to have been sanctioned by Xi's government. Why? Well, because everyone in Hong Kong knows it. Much of the rest of her reasoning – free thinking, I guess I should call it – on China is what Xi 'might be contemplating' or 'could be considering'. Supported by nothing, apparently, except the liberal free-thinker's gift of clairvoyance.
Hong Kong was always Chinese. The Qing dynasty ceded it to the British Empire in the Treaty of Nanjing, and it became a British Crown Colony. Britain was back for Kowloon in 1860, and leased what came to be known as The New Territories for 99 years, ending in 1997. Time's up. The people of Hong Kong are Chinese; it's not like they are some different and precious race that China aims to extinguish. I was there a decade after it returned to Chinese control, and it was largely independent; it had its own flag, the British street names were retained, and you can probably still stop on Gloucester Road and buy a Jaguar, if you have that kind of money. To a very large degree, China left it alone and minded its own business, but like I said; it's Chinese. These ridiculous western attempts to split it off and make an independent nation of it are only making trouble for the people of Hong Kong and, as usual, appeal mostly to students who have never run anything much bigger than a bake sale, and 'free-thinking liberals'.
China is not 'isolated diplomatically'. Beijing is host city to 167 foreign embassies. There are only 10 more in Washington, which considers itself the Center of the Universe. Lately China has been spreading itself a little, muscling into Latin America, right in Uncle Sam's backyard. Foreign Direct Investment into China increased 3.6 percent year-on-year to $78.8 billion USD in January-July 2019, and has increased steadily since that time, when it fell dramatically owing to Trump's trade war. That has proved far more disastrous to the USA than to China, which is rapidly sourcing its imports from other suppliers and establishing new trading relationships which exclude the United States, probably for the long term. "China is isolated diplomatically" is precisely the sort of inane bibble-babble liberal free-thinkers tell each other because they want to believe it is true. It is not. Similarly – and, I would have thought, obviously – China is also not 'increasingly regarded as an international pariah'. That's another place she's thinking of.

There is nothing Russia or China could do to please the United States and its increasingly lunatic governing administration, short of plucking out its eye and offering it for a bauble, like Benton Wolf in The Age of Miracles. The type of 'reforms' demanded by the US State Department suggest its current state is delusion, since they are patently designed to weaken the government and empower dissident groups – is that the essence of democracy? It sure as fuck is not. You can kind of tell by the way Washington pounces on its own dissident groups like Mike Pompeo on a jelly roll; the FBI investigated the Occupy Wall Street movement as a terrorist threat. Russia got a prescient preview of the kind of treatment it could expect from the west when it applied to join NATO, as I mentioned at the beginning of this post. The acceptance of the Soviet Union "would be incompatible with its democratic and defensive aims."
So as most ordinary thinkers could have told you would happen, America's hold-my-beer-and-watch-this hillbilly moves to split Russia and China apart have succeeded in driving them closer together; the world's manufacturing and commercial giant and a major energy producer – a great mix, unless you are the enemy. The rest of the world is kind of watching America with its pants around its ankles, wondering what it will do next. It failed to wreck the Russian economy, failed to depose and replace Bashar al-Assad in Syria, failed to depose and replace Nicolas Maduro in Venezuela, and it will fail to prevent a Sino-Russian axis which will reshape global trade to its own advantage at the expense of America. Because whenever it has an opportunity to seize upon a lucid moment, to turn away from its destructive course, it chooses instead to bullshit itself some more. To whisper what it wishes were true into its own ear.
And if wishes were horses, beggars would ride.