"Make way, we are coming! Give us every right and don't you dare breathe a word before us. Pay us every sort of respect, such as no one's ever heard of, and we shall treat you worse than the lowest lackey… Why, you are so eaten up with pride and vanity that you'll end by eating up one another, that's what I prophesy."
Fyodor Dostoevsky, from "The Idiot"
"Now you're messin' with a son of a bitch…"
Nazareth, from "Hair of the Dog"    
You know, if I had to sum up in one word the quality that makes my blood boil, infuriates me, that makes me turn to angry writing for release, it's smug. Smugness, smugalicious self-congratulatory kiss-my-feet-peasants lording it over everyone. It almost turns my teeth sideways, and when such a person is holding forth, I concentrate with absolute intensity on mentally trying to cause a 10-ton concrete counterweight to materialize above them, to subsequently plummet onto them and crush them to a little oozy spot, and silence their quacking forever.
And, increasingly, nobody does smug self-congratulatory we're-the-shit-and-don't-forget-it like official America. Before we go any further, Americans have every right to be proud; it's a great country. Once upon a time, when it said "I must use my powers for good", nobody laughed or smirked, because it probably meant it. But somewhere along the way, the wish to do something good for the world was mislaid; perverted, stripped of its original meaning, reduced to a cheap label for regime change and asset-grabbing and little-tin-god swaggering. When you hear that guy, you want him to fail. You want him to trip over his own feet and fall right on his face.
So I say, thank God for Mike Pompeo. Because it's mean to wish for someone to fail. But somehow, whenever you hear the former CIA Director and current American Secretary of State blathering about how great and mighty America is, you don't feel bad for wishing God would turn him into Mimi Bobeck's bicycle seat.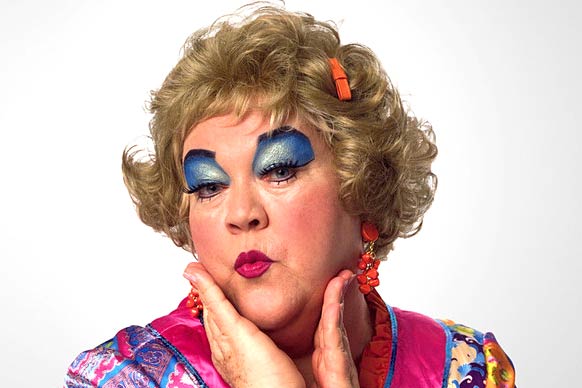 In fact, it feels pretty good.
Before we get into the latest thing the Scintillating SecState said that made me wish he had his ears pop-riveted to a corkboard in front of a punching machine with an uninterruptable power supply (UPS), a little background. Scene-setting, if you will.
Remember when John Kerry, the walking chin who personified The Importance Of Being Earnest, waxed eloquent on how Russia was 'using energy as a weapon'? Oh, he was by no means the first to say it, or even one of a select crowd, but he was the first to come up on Google. And it's kind of appropriate,  because he's almost as instructive as Mike Pompeo at illustrating what a stuffed-shirt insufferable prick Washington has become. Remember when he promised that if the UN would only authorize a cruise-missile strike against Assad in Syria, it would just be a tiny one? And that the 'Arab countries' had agreed that if America would go in and smash Assad, they would pick up the tab? It did not seem to occur to him that he had just stipulated to Washington hiring itself out as a mercenary to whoever had the money, as long as they were on the right side. Ahhh….memories; thank you, John.
Anyway, let's not wander too far off the path. Washington is never so pathetic as it is when it's plucking at heartstrings over freedom and the sacred right of the individual to reach for the stars. Dialing the sanctimony up to 12, Kerry wept, "It really boils down to this: No nation should use energy to stymie a people's aspirations. It should not be used as a weapon. And we can't allow it to be used as political weapon or as an instrument for aggression."
The occasion on which John Kerry, who turned out to be more the Secretary of Embarrassing Failure than anything else, laid down the law on Using Energy Always For Good Things was the supposed overcharging of Ukraine for gas by Russia. That was – you guessed it – using energy as a weapon. He did not mention that the gas price, while it was indeed somewhat high, was that agreed upon in a contract by then-Prime-Minister of Ukraine, Yulia Tymoshenko, after she had been specifically forbidden by the Ukrainian cabinet from taking such action. Today she is running for President of Ukraine, while Russia is permanently in the doghouse. Also, Ukraine displayed a somewhat cavalier attitude about paying its bills.
Whoa, Mr. Former Secretary of State – get with the now. The current Secretary of State is the fucking poster-boy for stymieing people's aspirations through the creative abuse of energy. He can't wait to use it as an instrument of aggression. In fact, let's take a look at what he said.
"In his keynote address, Pompeo spoke of exploiting the power the United States is accruing through rising energy supply in "punishing bad actors"; he laid out a vision of working with energy firms to isolate Iran and Venezuela; and he emphasized the need to protect oil supplies by countering China's moves to control the South China Sea."
Neither Iran nor Venezuela has done anything to the United States. Washington wants to rub Iran's face in the dirt because Israel is behind it – as usual – holding its coat and egging it on. Iran is a pretty serious oil power, and the USA just hates oil producers that will not kneel and kiss its ring. Ditto Venezuela, recently the beneficiary of another unbelievable act of American high-handedness, as Pompeo notified Venezuelan President Nicolas Maduro that the job was no longer his, and the United States had selected his replacement, Juan Guaido. As to China's alleged moves to control the South China Sea, maybe you noticed that word 'China' in the name. There have been no plans I have heard about to rename it the South United States of America Sea. Is there a particular reason the USA should be the steward of the South China Sea? Because it would be fair to everybody? Ha, ha. Sorry; I didn't mean to laugh out loud.
What do you have to do to earn a place on Mike Pompeo's 'bad actors' list? Why, simply get in his way, and then don't get out of it when he tells you to. I can tell you conclusively that it doesn't have a thing to do with your feelings on Freedom and Democracy. Saudi Arabia is just about as undemocratic as a country ruled over by a King can be, and Mike Pompeo fairly swoons with adoration for Saudi Arabia; "Under the Trump administration the U.S. feels far more emboldened by our oil-and-gas production and the support and alliance they feel with Saudi Arabia," said Sarah Ladislaw, who leads energy policy analysis at the Center for Strategic and International Studies."
Well, listen – about that. Are the Saudis really so enamored of The Orange Leader that they are willing to help assist his global maneuvering? Depends who you ask. If you ask RigZone, for example, that source will tell you the Saudis feel betrayed by Trump's last-minute decision to allow some Iranian customers exemptions from sanctions. Also, the Trump administration had the bad taste not to overlook, or at least downplay the murder of journalist Jamal Khashoggi, and to moreover state in public that the Crown Prince could hardly have been unaware, and might even have played an active role. The biggest trump card (ha, ha; see what I did there?) the Trump administration has is the hatred of Saudi Arabia for Iran, and it is likely that which keeps the Saudis from seeking greater cooperation with Russia; Iran is a Russian ally.
Similarly, the USA now needs Saudi Arabia more than Saudi Arabia needs the USA; along with pushing Saudi Arabia to continue ramping up production in an effort to strangle Iran, the USA needs Saudi heavy crude for its refineries, as it has lost Venezuela as a supplier. Caracas has already moved its national oil company's headquarters to Moscow; during a visit to China last month, bin Salman inked a $10 Billion deal with Beijing to build a refinery and petrochemical complex in China. Venezuela's weakness, along with a foolhardy dependence on food imports, is a lack of refinery capability and a consequent former arrangement with the United States to refine its crude. Perhaps the destination of its products might be about to change in the near future, beyond where American sanctions can reach them. Additionally, the Saudi Minister of Energy announced the Kingdom's investment in China is 'just beginning'. Speaking of Russia, Rosneft holds Venezuelan-owned US-based oil company Citgo as collateral for loans; if Venezuela cannot pay back its loans, Moscow will control Citgo.
Enough cautionary notes? No? Okay; the US Energy Information Administration (EIA) just cut its national output projections, for the first time in 6 months. The number of active oil and gas rigs in the USA fell in March. According to OilPrice.com,
"The latest projections from the EIA are in line with many analyst forecasts which have warned that although U.S. oil production will keep growing, the pace of that growth is not sustainable over time because many of the 'sweetest spots' have already been drilled out, the decline rates at wells are fast, and because smaller independent drillers are not making money, thus disappointing shareholders who expect returns, not record high production."
There's a phrase in there that ought to make Pompeo feel like he just swallowed a chicken foot; "not sustainable over time". Because Pompeo's G-man fantasies about using energy as a weapon against 'evildoers' absolutely depend upon US production growth being steady and sustainable. Most of the future production gains are expected to come from the Permian Basin, as the Eagle Ford and Bakken formations are already in irreversible decline.
Uh oh. I see a problem. Decline rates in the Permian are…ahhh…somewhat higher than initial estimates forecast. And before we look at those, 'decline' is not a word you want to see in a paragraph which has, as its objective, 'increase production'.
"A study by Wood Mackenzie Ltd. found maturing wells in some parts of the Permian's Wolfcamp shale were losing almost 15% of output annually five years after startup. That compares with the 5% to 10% initially modeled.
"If you were expecting a well to hit the normal 6% or 8% after five years, and you start seeing a 12% decline, this becomes more of a reserves issue than an economics issue," said R.T. Dukes, a director at industry consultant Wood Mackenzie Ltd. It means "you have to grow activity year over year, or it gets harder and harder to offset declines."
Which brings us to the American claim to energy self-sufficiency, a concept which makes American venture capitalists and politicians alike hug themselves with glee. When's that going to happen? One more time; depends on who you ask. By 2020 according to Rex Tillerson, former Exxon-Mobil CEO and even-more-recent former US Secretary of State – gosh, we're having a bit of a run on those in this post. I need hardly point out to anyone who is aware of what year it is that that golden date is only about a year away. By 2021, according to BP.
Probably not as long as your asshole points downwards, according to Matt Mushalik, who runs the Australian website "Crude Oil Peak". According to his evidence, all charted out and everything, in 2015 – well within the envelope that American and other analysts were trumpeting like mating elephants about US energy independence, the USA was producing 9.5 million Barrels Per Day (BPD). But it was at that same time still importing nearly that amount, at 7 million BPD. So almost half its oil was still being imported. Since then, the ratio appeared to settle in at about 43% imports. To the best of my knowledge it has not improved since. Meanwhile, some imports from some sources are declining, such as Mexico. But that appears to be because Mexico's production has passed its peak, and the difference was immediately made up by increased imports of crude from Canada.
Just to reiterate a bit of local politics here, the USA buys Canadian heavy crude at a significant discount, because it is currently the only buyer, due to logistics. Alberta – the primary source of Canadian crude exports – is desperate to build the Trans-Mountain Pipeline Extension through its neighbour (and my home), British Columbia, tripling its delivery rate, so that it can ship loads of heavy crude to Asian markets. If that ever gets done, the USA might find itself competing with China, the likely destination for Canadian exports. In such circumstances, it might become quite a bit more expensive, and the USA's Orange Leader might have cause to regret imposing steel and aluminum tariffs on Canada on national-security grounds. But we'll see. Currently the Trans-Mountain Extension looks as likely to be built as the Dick Cheney Vice-Presidential Library.
"Contrary to general belief, and mis-information by the media the US is far away from being "energy independent" in terms of crude oil imports. Maybe some may find the above analysis statistical hair-splitting but the narrative of US energy independence has shaped public opinion to such an extent that prudence has given way to complacency. There is a danger that wrong geo-strategic views are formed, especially in the context of evolving and worsening conflicts in the Middle East."
Clever-clogs creative interpreters may point out at this juncture that the US claim was to 'energy independence', not 'crude oil independence'. The difference will surely be wiped out by the vunderful Shale Boom, kaboom, kaboom. And I hope they do, because that was a test to see if you were paying attention when I said earlier that the largest US shale formations are in output decline; production is still increasing, but only by dint of increased drilling, as the highest-producing areas have already been drilled to porous ruins. New wells in the less sought-after areas tip over into decline much quicker than the rich deposits.
How's that energy weapon looking now, Mikey? Mmmmmm…yes, a bit limp. I think I'll close out with a lighthearted quote from a philosopher who is, for a change, not real; Monty Burns.
"Ironic, isn't it Smithers? This anonymous clan of slack-jawed troglodytes has cost me the election, and yet if I were to have them killed, I would be the one to go to jail. That's democracy for you."